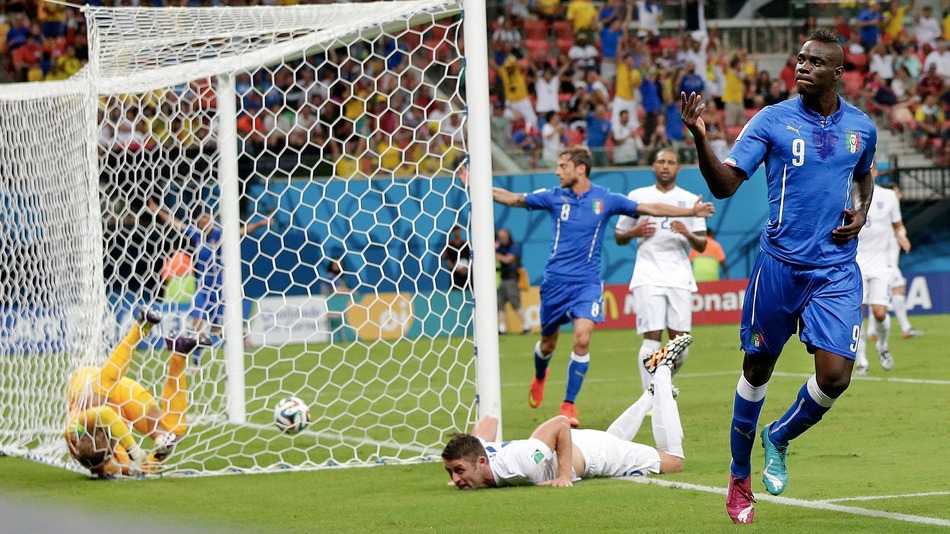 As the dust of the World Cup group stages begins to settle, the intensity of the round of 16 begins to loom over Brazil.
Group B is all but settled. Australia are heading home, as are the reigning champs Spain. The Netherlands and Chile move into the tournament's round of 16, though their order has yet to be determined. Group C saw its first playoff spot go to Colombia on Thursday, after it defeated the Ivory Coast 2-1.
But what about Group D and E? Let's take a look at what you should expect in Friday's matches.
Italy vs. Costa Rica 
After both teams won their opening game, this match may determine the winner of Group D.Costa Rica currently leads the group due to goals; Italy are the heavy favorites, thanks to the deadly duo of Mario Balotelli and Andrea Pirlo.
It may not end with victory or goals for either team, of course. Matches like Mexico vs Brazilon Tuesday have shown that nil-nil draws are just as much as a reality in this tournament as sweeping victories.
If Italy does win, they'll likely face the Ivory Coast in the round of 16.
The match also has interesting implications as to who else could advance out of the group.
England still has a shot at advancing if both Italy and England can score a combined 3 goals on Costa Rica, conceding none, and Italy beats Uruguay.
But with a revitalized Luis Suarez scoring two goals against England, that outcome is far from a foregone conclusion. Uruguay may well be able to force a draw against Italy — as might the surprise team of 2014, Costa Rica.
Either way, the hungry Colombia squad who topped Group C will be waiting to strike the runner up — whether it's Uruguay, Costa Rica or England.
Switzerland vs. France
 France's Karim Benzema celebrates after scoring France's third goal during the Group E World Cup soccer match between France and Honduras at the Estadio Beira-Rio in Porto Alegre, Brazil on June 15.The clash between the boys in red and the boys in bleu on Friday will also determine a group winner.
France currently holds the lead in Group E after a dominating performance by Karim Benzema, who was effectively robbed of the World Cup's first hat-trick, thanks to some questionable calls by officials (the honor later went to Germany's wunderkind Thomas Müller).
Looking ahead to the round of 16, this match may be the most important of the day if either team wants to extend their World Cup lives. Winning Group E will allow France or Switzerland to dodge the very likely winner of Group F — Argentina. Messi and co. are not the team you want to meet early in the knockout round.
Meanwhile, the winner of Group E is expected to have one of the easier match-ups in the round of 16. After the evident problems in Iran and Nigeria's tournament opener, Bosnia-Herzegovina should take the number 2 spot in Group F.
Although they managed to put up a point against Argentina, Bosnia-Herzegovina are hardly a match for most other teams expected to make it out of the group stage.
Honduras vs. Ecuador
Depending on the number of goals scored in Switzerland vs France on Friday, the Honduras-Ecuador game could be quite thrilling.
Still, Ecuador's advance out of the group depends heavily on France playing some incredible soccer — and that's just not the team you want to hedge your playoff berth against.
For Honduras, the path to the round of 16 is almost impossible. Honduras would have to score three goals against Ecuador, let no goals in and then go on to beat Switzerland at least 1-0. With Honduras' weak opener against France, plane tickets home seem a more likely outcome.
via: mashable.com