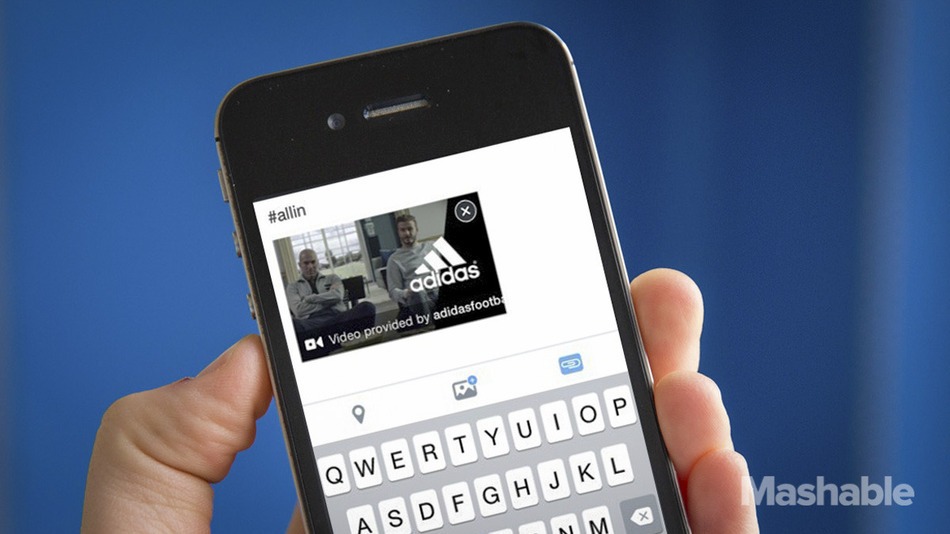 Twitter appears to be experimenting with a new mobile ad feature with two World Cup advertisers, Visa and Adidas.
The feature, which Twitter had apparently tested with the film A Million Ways to Die in the West last month, lets you easily share a video ad when you use a hashtag. For instance, if you type "#visa" and then a space, you should see a paper clip prompt in your Twitter iOS app. Click on the icon and you can attach a video, which is an ad for Visa.
Adidas is testing a similar program with the hashtag #allin, which appears to lead to a video.
A Twitter rep declined comment on the feature. Reps from Visa and Adidas could not be reached for immediate comment.
The feature offers new utility to advertisers. Consumers who are using campaign-affiliated hashtags can further spread the messaging with promotional videos. It's unclear however if the videos associated with the feature are one-click play. Twitter expanded one-click capability beyond its Amplify program last month.
For Visa, the feature underscores the brand's use of mobile video in its World Cup campaign. Visa has another program called Teletransporter that superimposes your video image over a soccer-related backdrop. In one you can play against Zinedine Zidane. "We're very much reinforcing the fact that people around the world are united in the passion for football," says Kevin Burke, Visa's CMO. "We know video is incredibly compelling and has high engagement rates from fans."
via: mashable.com