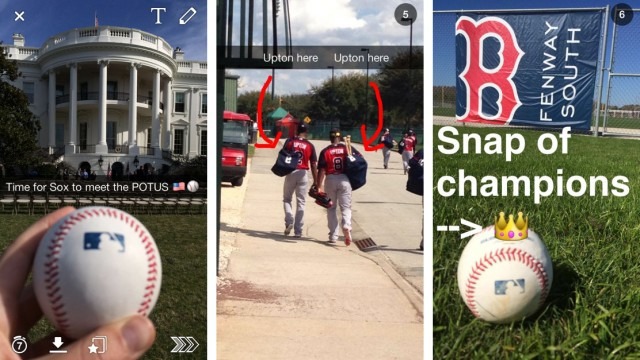 Via: www.mashable.com
Spring has sprung, and so has another season of Major League Baseball.
The 2,430 games of America's favorite pastime are officially underway, and MLB has set its sights on finding new ways to engage with baseball devotees. As social media has come to occupy a serious place in the hearts of fans and franchises alike, brand strategists are zeroing in on sporting events to trigger tweets, inspire Instagrams and promote pins. But who's next up to bat in the social-media lineup? Snapchat.
Earlier this year, MLB decided it was time to hop on the Snapchat bandwagon, just in time for spring training. We chatted with the league's social-media producer, Hali Stark, to get the scoop on its Snapchat strategy.
Q&A with Major League Baseball
Mashable: When did Major League Baseball start Snapchatting and why? What drew you to the platform?
Hali Stark: MLB joined Snapchat in February around the start of spring training. We had been interested in the platform, knowing a lot of our fans were there, and we had the ability to reach a different demographic. Spring training was the perfect time to start the account. It's a more laid-back environment for players and fans, and it gave us the ability to capture a part of baseball that not every fan gets to experience.
What is unique about Snapchat? How do you think it differs from other forms of social media?
Every social platform serves a purpose. Finding that purpose for Snapchat was important to us before joining because it's such a personal experience.
What makes Snapchat unique is the combination of features it offers, and the way that people use the app to communicate. When creating a strategy, we wanted to apply how we use it personally, and how we think our fans use it. We snap as if we were just another friend (who happens to have great access to baseball players). MLB doesn't break news on Snapchat, or take the most artistic photos — we try to create lighthearted, in-the-moment photos or videos that show off the personality of our players and the game.
How do you decide what to snap? What do you like featuring on your Snapchat stories?
Obviously, you have to be present to take a snap, so depending on where our team travels, we try to find the most interesting, fun storyline of the day. Then we try to capture it combining the right emojis, drawings or creative text. We craft all of our snaps to make fans feel like they are getting an exclusive message straight from MLB or the player.
Some of our most popular snaps have been players interacting with the camera. Whether it's them dancing, high-fiving or waving, fans feel as if that particular player is sending them a personal message. Snapchat gives us the opportunity to showcase our players' personalities and create personal connections for fans that aren't quite possible on other platforms or in real life.
How does Snapchat lend itself to sports coverage?
Snapchat is perfect for sports. While it's not ideal for live-game coverage, it gives sports brands a completely new way to create connections with fans. We see how Snapchat is changing the way our fans communicate and if our fans are there, then we want to be there, too. We look forward to seeing how the app changes in the future, and we'll be ready to adjust and innovate with any new features down the road.