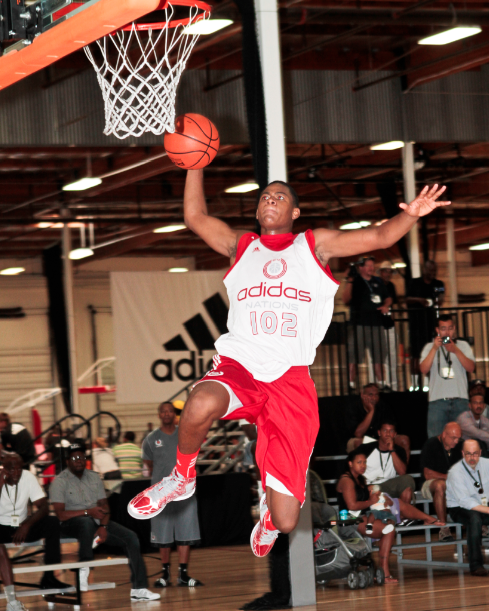 By Dave Telep via espn.go.com
LSU secured its most important commitment of the year Thursday when senior power forward Jarrell Martin (Baton Rouge, La./Madison Prep) chose Johnny Jones' Tigers over Alabama, Texas A&M, Oklahoma State and St. John's.
"I talked with a lot of my coaches and family members," Martin said. "We all had time to talk about it, and we came to the agreement that LSU would be a perfect place."
The 6-foot-8 power forward, who is the No. 14 overall prospect in the Class of 2013, joins a recruiting class that has gained steam since the start of the fall. Fellow ESPN 100 prospects Jordan Mickey (Arlington, Texas/Prime Prep) and Tim Quarterman (Savannah, Ga./Johnson) combine with Martin and juco big man Deng Deng (Melbourne, Australia/Lee College) to move LSU up to the No. 6 recruiting class in the 2013 rankings.
"I just decided to stay at home, and the recruiting class that they've got coming in looks like it will help me get to the next level," Martin said.
Martin was expected to wait until the spring signing period to make a college choice, but with less than two weeks until the early signing period (Nov. 14-21), he went ahead and pulled the trigger.
"I just decided to get (the decision) out of the way and focus on my senior year academically and my basketball season," Martin said.
Martin is a phenomenon on the high school and AAU circuit. He was ineligible to play as a freshman and then sat out his sophomore season per state transfer rules, so his first full high school season came last year. As a junior, Martin averaged 26 points and 14 rebounds per game while leading his team to an appearance in the state semifinals.
However, it was on the travel team circuit where he garnered national headlines.
On the court, Martin is a mixture of size, athletic ability and explosion. In a short time, he garnered a reputation as one of the best rebounders in the country. His combination of work on the glass and play on the perimeter is one of the reasons he compares favorably to Washington Wizards forward Chris Singleton.
"He's a good kid, a humble kid," Madison coach Jeff Jones said.
In his first full recruiting season at LSU, Jones has secured three ESPN 100 commitments. The LSU graduate and former North Texas head coach now owns commitments from the top player in his state and ventured into Texas and Georgia for his other pledges.
David Helman contributed to this report.