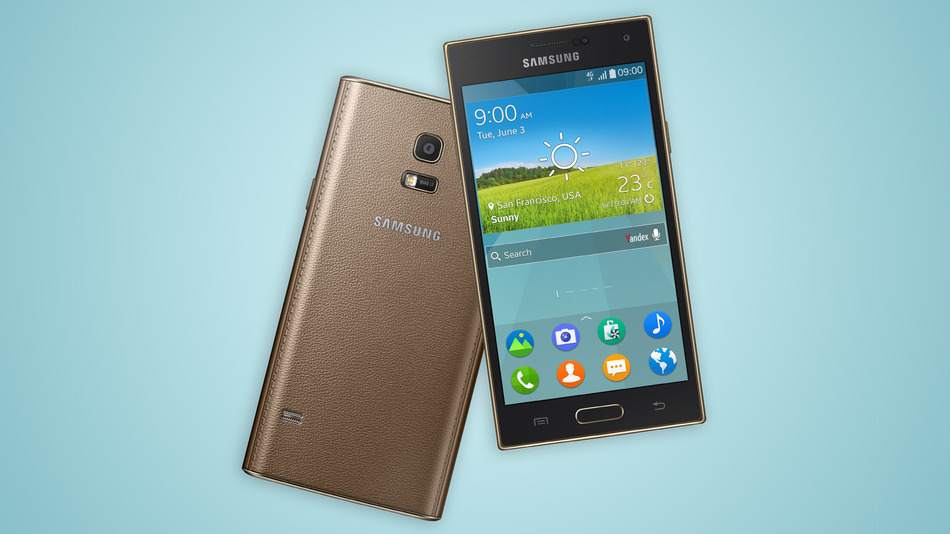 You may have heard about Tizen as a platform for Samsung's smartwatches, but the company has bigger plans for the OS, if the new Samsung Z smartphone is any indication. Unveiled Monday in advance of the Tizen Developer Conference in San Francisco, the Samsung Z is the world's first commercial smartphone to run on Tizen.
Let's back up: What the heck is Tizen? It's yet another mobile operating system, this one based on Linux, and its principally operated by Samsung (Intel and a few others support it, too). Tizen was created with multiple kinds of devices in mind — not just phones — and it's capable of powering cameras, wearables, smart TVs and even laptops. It's currently the OS in most of Samsung's Gear watches and some of its cameras.
While the Samsung Z isn't the first phone to run Tizen (version 2.2.1), it's the first one aimed at the mass market. It certainly has the features to appeal to a wide audience: a large 4.8-inch SuperAMOLED display with 1,280 x 720 resolution, an 8-megapixel rear camera and even a fingerprint sensor that's just like the one on the Galaxy S5. It also includes S Health, Samsung's health hub-app that comes with some of the company's Galaxy phones.
The phone packs a 2.3GHz quad-core processor and 2GB of RAM. Storage is just 16GB, but you can get more via a microSD card.
The Samsung Z also has an LTE radio, and it features another of the marquee abilities of the Galaxy S5: the download booster that lets the phone combine both the LTE and Wi-Fi connections to accelerate download speed.
The great specs as well as the presence of advanced features suggests Samsung has big plans for its first real Tizen phone.Far from being just a model for developing markets, the Samsung Z is likely intended as a top-line model that developers can build to — similar to how Google regards itsNexus devices. The company only said it would come to Russia first, as predicted, but that releases in other countries would soon follow.
Samsung is the No. 1 Android phone manufacturer in the world, but the Samsung Z could be the beginning of a long-term strategy to undermine Android with Tizen, which Samsung has much more control over. That would take some doing considering Android has 1 million+ apps, and Tizen has very few, but software exists that will quickly let developers convert their Android apps to Tizen versions.
via: mashable.com