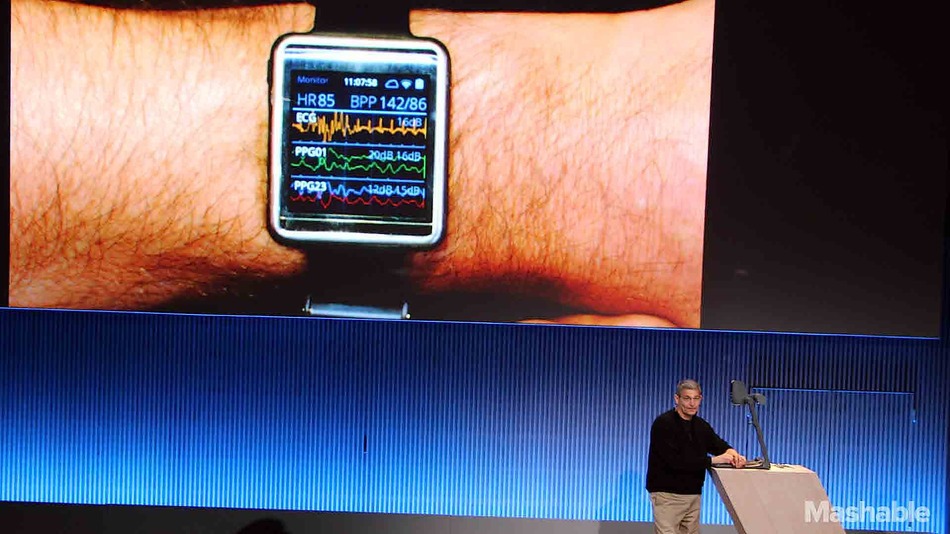 Hoping to take the lead in the race to build the ultimate wearable device, Samsung offered a sneak peak Wednesday at its next-generation health-tracking wristband, known as the Simband.
Using different wavelengths of light beamed at your skin, Simband will track multiple measures of its wearer's health continuously, such as blood pressure, respiration, heart rate, hydration level, and the amount of carbon dioxide in your blood.
The one Simband demonstrated on stage at Samsung's "Voice of the Body" event in San Francisco showed a continuous stream of heartbeat information, seismograph-style, such as one might see on a hospital-grade ECG machine. A "shuttle battery" will allow you to wear the device 24 hours a day, charging it on your wrist while you sleep.
The still-speculative Simband is designed around a new open software platform called SAMI, for Samsung Architecture Multimodal Interactions. The company described it as one health platform to rule them all, bringing in information from non-Samsung health trackers too. Samsung says it will release SAMI APIs for developers by the end of the year.
"We believe that once we're working from a common platform, sensors will become more accurate, and will be brought to market more quickly," said Ram Fish, president of digital health for Samsung Electronics. He added that SAMI will exist as a "compliment" to Samsung's already existing S Health platform.
Young Sohn, president and CSO of Samsung electronics, announces the open-source SAMI platform.
IMAGE: MASHABLE, KARISSA BELL
No price or release date was offered for what was described as an "investigational device." Given that Apple is said to be announcing a health-tracking platform called HealthBook next week, the timing of Samsung's announcement suggests the company is staking its claim to the next-generation wearable space first.
via: mashable.com