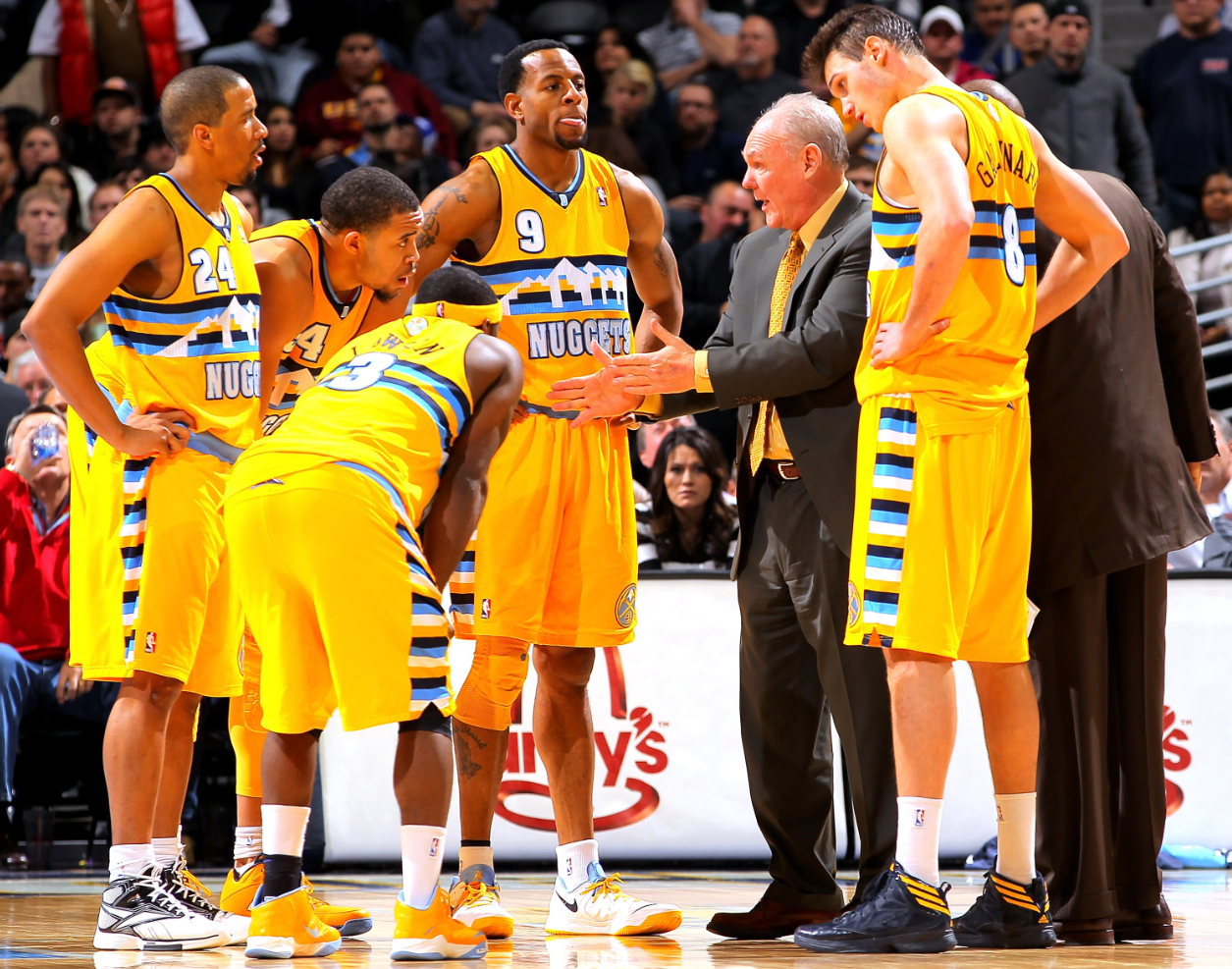 via www.nba.com/nuggets By Aaron J. Lopez
"A player on a streak has to respect the streak," – Crash Davis, Bull Durham
While gaining national respect and recognition with each victory, the Denver Nuggets are not getting enamored with their own accomplishments.
"I just see the things we can improve upon so we can have a great shot at doing special things (in the playoffs)," swingman Andre Iguodala said. "Are we there yet? I don't think so. We just need to continue to keep growing."
After beating the Oklahoma City Thunder for their 13th straight victory, the Nuggets (47-22) are in the midst of their longest winning streak since joining the NBA in 1976.
They will try to make it 14 in a row Thursday night against the Philadelphia 76ers at Pepsi Center.
"It's a good run," Denver coach George Karl said. "I don't want to get too happy about it because we've got a job to do and we have a challenge – it's to move on and get home court. There's no question that the brand of basketball we're playing is maturing and growing, and our confidence is growing with it."
As he watches the Nuggets grow up before his eyes, Karl has flashbacks to 1992-93, his first full season with the Seattle SuperSonics.
Led by emerging young stars Shawn Kemp and Gary Payton, the Sonics won 55 games and made a thrilling run to the Western Conference finals.
"Some of the coaches and I have compared the athleticism of the (current Nuggets) to that team," Karl said. "We challenged them in Seattle to try to break the (single-season) steals record. I think the Nuggets' defensive hands can be a problem for teams."
The Sonics didn't break the record but they led the NBA with 944 steals that season, an average of 11.5 per game. During their winning streak, the Nuggets are averaging 11.3 steals per game.
Their improved defense was on display in the third quarter against Oklahoma City. The Thunder managed just 16 points on 6-of-20 shooting as the Nuggets turned a one-point halftime deficit into an eight-point lead heading to the fourth.
Playing the second of back-to-back road games, Denver withstood Oklahoma City's late push for their most impressive victory of the season.
"It's a real gut check coming in on a back-to-back after an overtime game and they were here waiting for us," Nuggets point guardAndre Miller said. "It was a tough game and we figured out a way to stick it through."
Denver has become synonymous with resiliency.
After an 11-12 start that was a byproduct of playing 17 of their first 23 games on the road, the Nuggets started to gain some traction in the West.
Starting with a home victory over the Memphis Grizzlies on Dec. 14, Denver is 36-10. The Nuggets are also 14-1 since the All-Star break and 23-4 since Jan. 20.
The impressive play has put Denver in the thick of the chase for the No. 3 seed in the West and/or home-court advantage in the first round of the playoffs.
"Our team, we're hot," Karl said. "The momentum of being a hot team could go away just as quickly. We've got two guys banged up, and injuries could become a factor."
Reserve forward Wilson Chandler left Tuesday's game with a separated left shoulder. X-rays were negative, but Chandler is listed as doubtful for Thursday's game against the 76ers.
Starting point guard Ty Lawson will be a game-time decision with a right heel strain/contusion.