via Mashable.com by Sam Laird
Now that the dust has settled and regular games are starting back up again, it's important to take note of one of NBA All-Star Weekend's biggest winners. We're not talking about Chris Paul. We're definitely not talking about 2 Chainz. We're talking, in fact, about Twitter CEO Dick Costolo.
The NBA, more than any other sports league, has long been particularly simpatico with Twitter. Its players are among the most entertaining athletes online, many fans and media practically live on Twitter and the league is especially forward-thinking in coming up with new ways to use the platform. Last March, for example, the NBA became the first sports league to sell official Twitter-handle player t-shirts. In May, it became the world's first sports league to break 5 million followers.
In that context, Costolo's epic All-Star Weekend isn't as surprising as it may seem at first glance. But still, the guy balled out. Here are the three main ways:
1. Costolo was the featured speaker at the NBA's annual All-Star Technology Summit on Friday morning, where he talked about how Twitter is changing media, social networking and content distribution.
Other participants in the summit included U.S. Secretary of Education Arne Duncan, ESPN president John Skipper and Dallas Mavericks owner and entrepreneur Mark Cuban. Not bad company.
2. Toronto Raptors guard Terrence Ross won the dunk contest by completing a stunning through-the-legs dunk while jumping over a small child. That child? Costolo's son, Michael, whose dad landed him a few fun minutes on national TV. Here's the dunk:
3. On Saturday night, none other than LeBron James posted this photo to Twitter: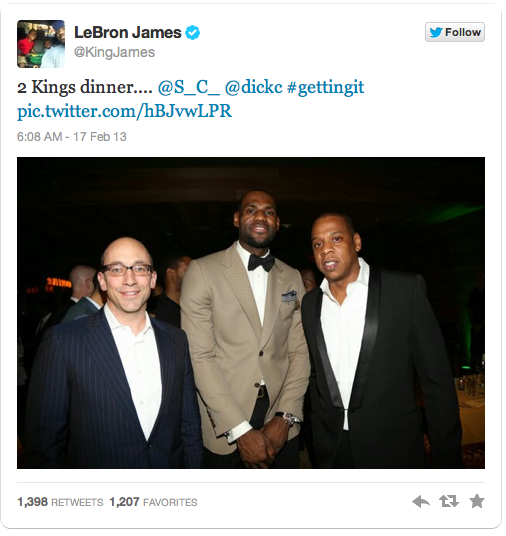 Jay-Z, LeBron and … Dick Costolo. #Winning.