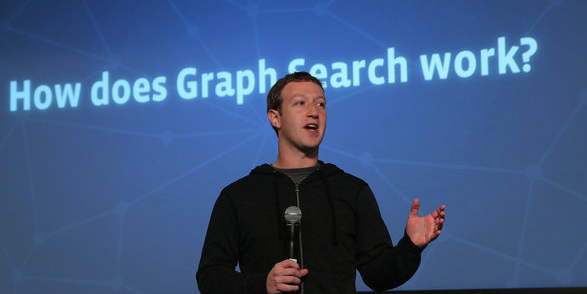 Jim Wilson/The New York Times
via NYTimes.com
Facebook on Tuesday took a stab at cracking a big, elusive problem of its own making: How to help its one billion users find what they're looking for in the jumble of posts, pictures and blue thumbs-up "likes" they share every day.
At an event at company headquarters in Menlo Park, Calif., Mark Zuckerberg, Facebook's co-founder and chief executive, announced a tool the company had spent over a year honing. He called it "graph search," and said it would be available to a limited number of Facebook users on Tuesday — in the "thousands"— and gradually rolled out to the rest. It would enable Facebook users to search their social network for people, places, photos and things that interest them.
That might include, Mr. Zuckerberg offered, Mexican restaurants in Palo Alto that his friends have "liked" on Facebook or checked into — though not status updates as yet. The tool might be used to find a date, or a job, Facebook executives said. "Graph search is a completely new way to get information on Facebook," Mr. Zuckerberg said.
What he didn't say, but which was clear, was how it would try to elbow out other companies that allow you to search for other things – LinkedIn for jobs, Yelp for restaurants, Amazon for gifts to buy for a friend and, of course, Facebook's biggest rival on the Web, Google, which dominates Web search. Facebook is staking its bet on the sheer volume of data that it has access to; it is hoping that its users will find what they're looking for on Facebook itself, without having to go to the rest of the Web.
And that is how Mr. Zuckerberg distinguished Facebook search from Google search, which sends you to other sites. The Facebook search tool is meant to keep you inside Facebook itself. "Web search is designed to take any open-ended query," Mr. Zuckerberg said. "Graph search is designed to take a precise query and return to you the answer, not links to other places where you get the answer."
Mr. Zuckerberg sought to reassure Facebook users that their posts and pictures would be found only if they want them to be found. Before the new search tool rolls out, users will get a nudge: "Please take some time to review who can see your stuff," it will read. Facebook tweaked its privacy controls last December.
Mr. Zuckerberg said Tuesday that initially, photos posted on Instagram, which Facebook owns, would not be part of the database of photos that can be searched. He did not specify how soon graph search would be available to those who log in on cellphones.
The search tool is plainly designed with an eye to producing profits. If done right, said Brian Blau, an analyst with Gartner, the Facebook search tool could offer marketers a more precise signal of a Web user's interests than a keyword on Google. "It's going to lend itself to advertising or other revenue-generating products that better matches what people are looking for," he said. "Advertisers are going to be able to better target what you're interested in. It's a much more meaningful search than keyword search."
Search earns the lion's share of advertising revenues on the Web, which is why Google makes nearly 10 times more money than Facebook on a yearly basis.