HallPass Media Produces Second Sports Business Classroom Draft Academy Virtual Experience
For the second consecutive year HallPass Media produced a 5 day immersive virtual conference for Sports Business Classroom called Draft Academy Virtual Experience. Hosted by Ryan McDonough, Amin Elhassan and Eric Pincus, Draft Academy's curriculum was designed to get students situated with a behind the scenes process of the league trade deadline and draft.
By the end of the conference, each student left with a video of their mock trade deadline presentations, Player Scouting Form of a college player from the NCAA tournament, Certificate of Completion, on-demand video content and an experience like none other!
The HallPass team utilized the Hopin platform to create a unique experience for all students, instructors and presenters involved.
Leading up to the conference, HallPass executed marketing campaigns through social media, website landing page, e-mails, website ads and live webinars. The  webinars brought our hosts and presenters together to discuss what students could look forward to in the weeks leading up to the conference.
The SBC Draft Academy Virtual Experience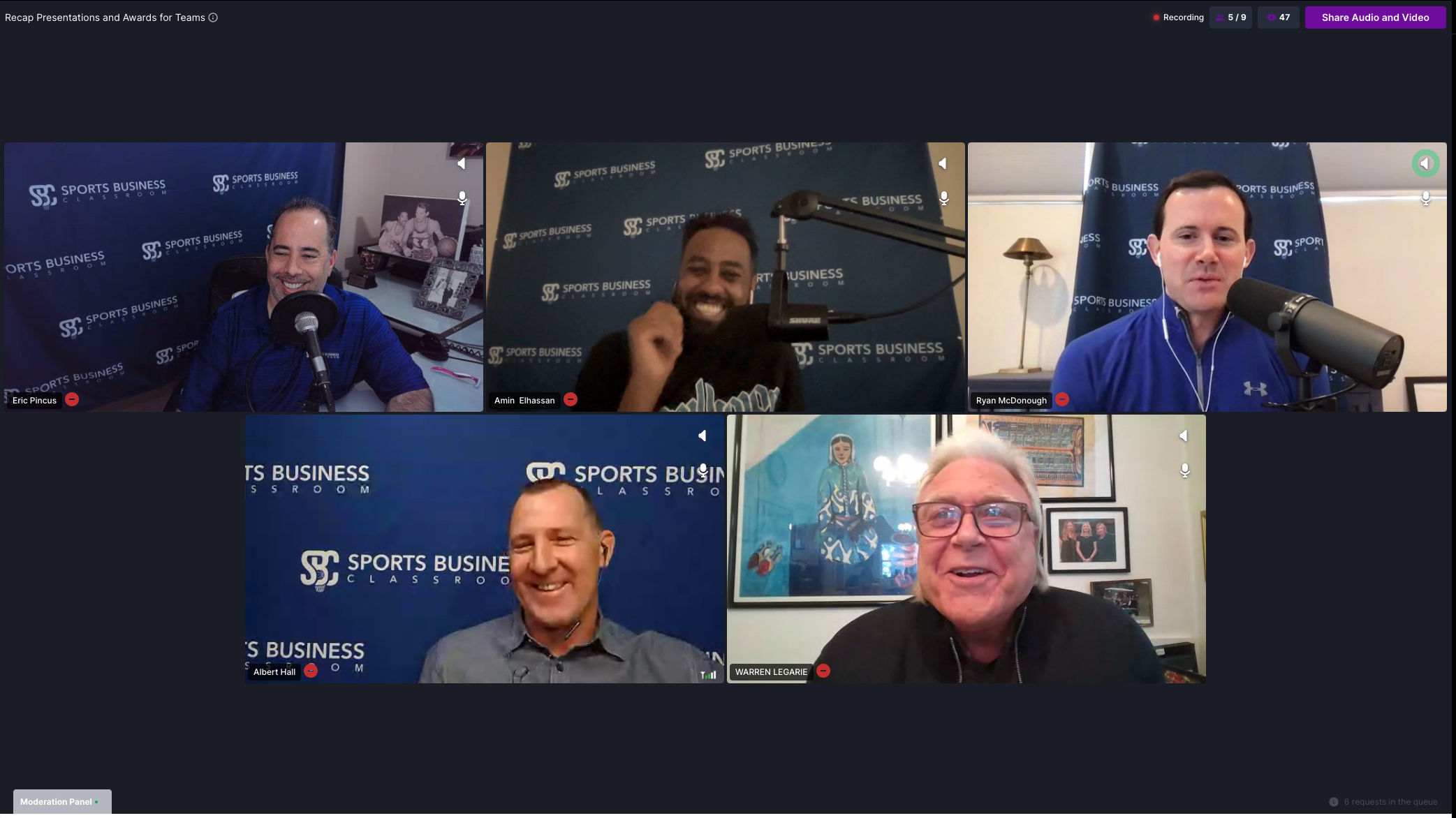 Ryan, Amin, Eric and our team put together a well-structured schedule and curriculum that replicated the in-person event for each day. The SBC Draft Academy Virtual Experience kicked off with a panel discussion led by ESPN's Mark Jones and Golden State Warriors Associate Head Coach Mike Brown. Students engaged in a curriculum including lectures, deep dives, one-on-one conversations, ask me anything (AMA) sessions with industry professionals, daily intros/ wrap-ups, and office hours with instructors.
The lectures and deep-dive sessions consisted of topics around the trade deadline, draft capital, CBA, scouting & analytics, media, jobs. AMA's and one-on-one conversations were highlighted by front office executives, media personalities and NBA coaches.
At the end of all lectures, students were placed in teams as they simulated and performed viable trade scenarios under a time constraint with the approval from the league office, operated by SBC alumni's No Trade Clause group.