Sports Business Classroom is proud to announce our speaker lineup for the 2017 Sports Business Classroom taking place in Las Vegas, Nevada July 9 – 15!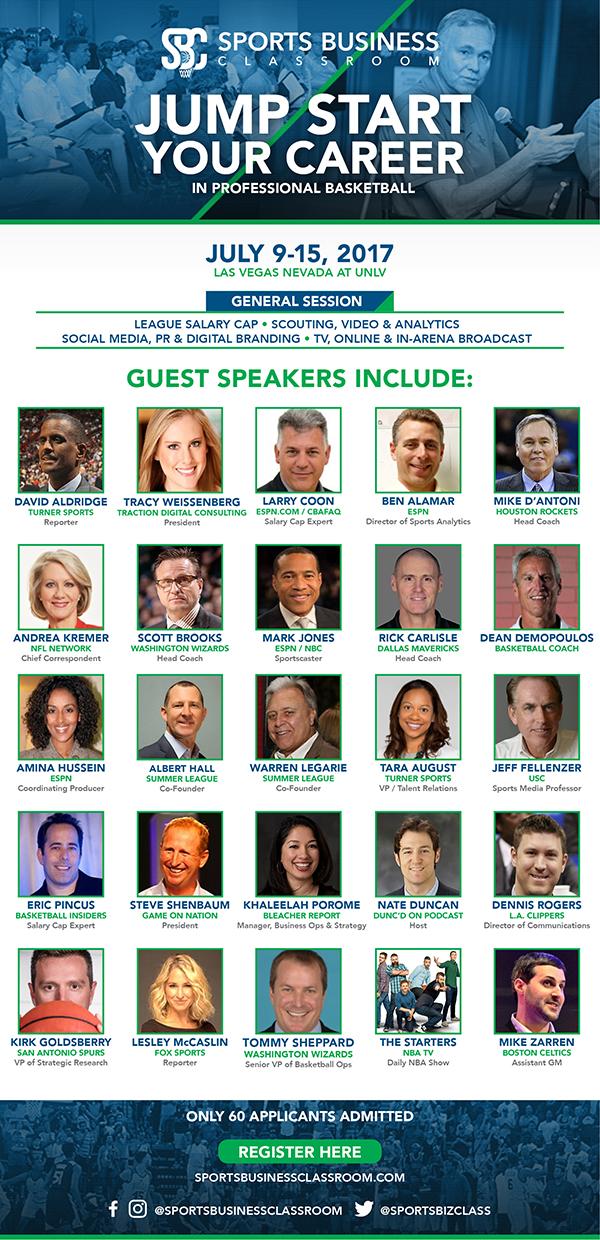 Sports Business Classroom is organized like a college. All students get a little bit of everything in the "GE" sections, and also choose a "Major" for in-depth learning. The 2017 Sports Business Classroom majors are:
In addition, Networking, Resume Writing and Interviewing is a GE topic but not a major.
We have an all-star lineup this year featuring key executives and industry leaders who will will give an inside look into the world of sports and the intricacies of the business of basketball.
Salary Cap expert Larry Coon will be leading the Business of Basketball program and Executive Session at Sports Business Classroom (SBC) 2017 in Las Vegas. In this role he is also serving as the program lead for the League Salary Cap major. The curriculum will give students an in-depth look at the intricacies of the league salary cap, including important changes in the new 2017 CBA.
Hall of Fame TNT reporter, David Aldridge will be leading the TV, Online and In-Arena Broadcast major. The curriculum will be curated to give students an in-depth look at the intricacies of different broadcast platforms, the ins and outs of working in broadcast media, as well as providing students hands-on experiences that are designed to serve them in their career in sports moving forward.
Award-winning social media strategist Tracy Weissenberg will be leading the Social Media, Public Relations and Digital Branding major. The curriculum will be designed to explore the many facets of social and digital media, including content production, developing a voice, marketing, broadcast integrations, new technology, different platforms and overall strategy. It will take an in-depth look at an ever-changing digital landscape and how social media is the new frontier of interaction, content and monetization. The curriculum will include speakers across the industry, insight from influencers on personal brand building, creative brainstorming sessions and on-site, interactive training.
The Director of Sports Analytics for ESPN, Ben Alamar, will be leading the Scouting, Video, and Analytics major. SBC students majoring in the Team Video, Scouting, and Analytics will be assigned video room work, scout live games, file reports, and receive live feedback from pro basketball scouts, analysts and video coordinators during live training exercises.
Longtime Sports, Business, and Media professor, former Los Angeles Times writer-editor and basketball entrepreneur Jeff Fellenzer, from the University of Southern California's prestigious Annenberg School for Communication and Journalism, will once again lead a session on "Networking, Resume Writing and Interviewing". The session, which will also include valuable instruction on how to deliver an elevator pitch, will be offered to each participant in the Business of Basketball program.
We will also have featured speakers like Mike D'Antoni, Head Coach of the Houston Rockets, Andrea Kremer, Chief Correspondent for the NFL Network, Kirk Goldsberry, VP of Strategic Research for the San Antonio Spurs, and more!
To learn more about the 2017 Sports Business Classroom, please visit: https://www.sportsbusinessclassroom.com/