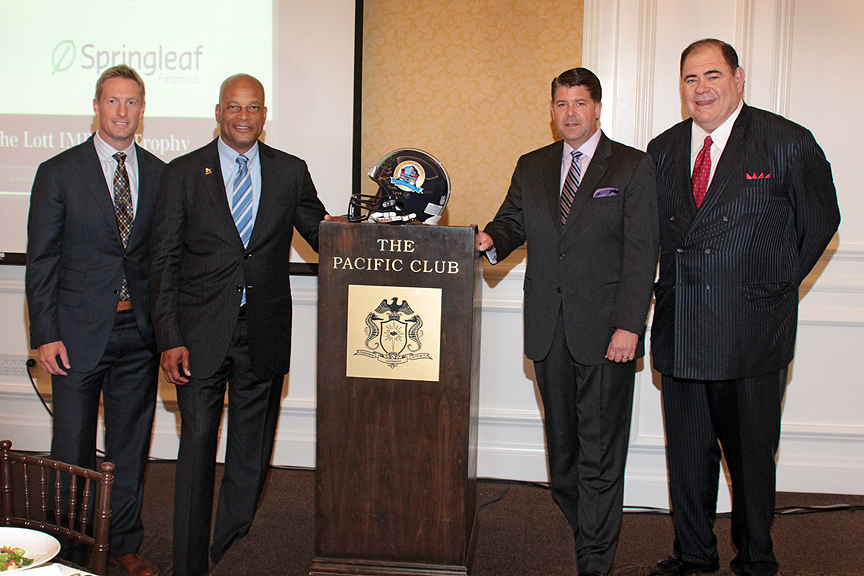 NEWPORT BEACH, CA — For the 12th consecutive year, the Pacific Club IMPACT Foundation has announced a stellar class of 42 college student-athlete nominees for the annual Lott IMPACT Trophy.
"I am equally proud of the fact that we have raised so much money for a variety of charities, including universities, and the fact that the players we have honored over these past 11 years have made significant impacts in their communities as well as on the field in the NFL," said Ronnie Lott, the Hall of Famer whose name graces the award.
To date, the Foundation has donated $1,147,160 to charitable organizations and universities.
The breakdown of the 2015 Watch List: 10 defensive linemen; 17 linebackers; 15 defensive backs. By conference: Big Ten, 10; Pac-12, 8; Big-12, 7; ACC, 7; SEC 5; Mountain West, 1; Independents, 4.
There are also six players on the Watch List from a year ago – Kelby Brown of Duke, Shilique Calhoun of Michigan State, Vernon Hargreaves of Florida, Karl Joseph of West Virginia, Jaylon Smith of Notre Dame and Eric Striker of Oklahoma.
The criteria for selecting student-athletes for the Lott IMPACT Trophy Watch List and subsequently the finalists and eventually the overall winner, is based on both athletic ability and character attributes.
Character transcends the on-the-field accomplishments of the players. The acronym for IMPACT is Integrity, Maturity, Performance, Academics, Community and Tenacity.
The nominees are considered for their academic standing at their university, their community contributions, their leadership skills and their overall character.
Past winners of the Lott IMPACT Trophy have exhibited these characteristics, ones that were and are displayed by Ronnie Lott and embraced by the Pacific Club IMPACT Foundation, founders and sponsors of the event.
The 12th annual Lott IMPACT Trophy Award Banquet will be held Dec. 13 at the Pacific Club in Newport Beach, Ca.