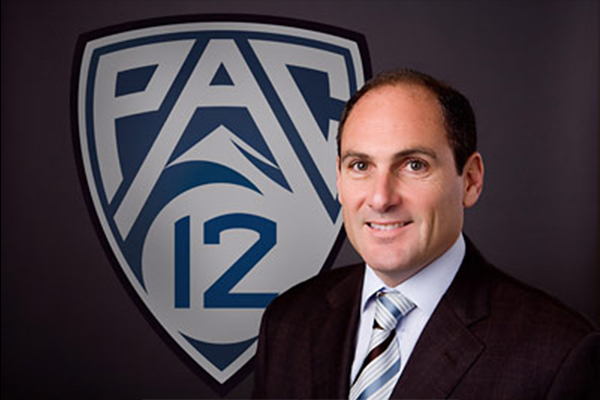 PAC-12 COMMISSIONER LARRY SCOTT TO BE KEYNOTE SPEAKER AT LOTT IMPACT TROPHY TENTH ANNIVERSARY BANQUET
NEWPORT BEACH, Aug. 14 – Larry Scott, the innovative and highly acclaimed commissioner of the Pac-12. will be the keynote speaker at the Tenth Annual Lott IMPACT Trophy banquet Dec. 8.
The announcement was made today by the Pacific Club IMPACT Foundation, sponsors of the annual award.
The Lott IMPACT Trophy goes to the college defensive player who has the biggest IMPACT on his team both on and off the field. IMPACT stands for Integrity, Maturity, Performance, Academics, Community and Tenacity.
Since its inception in 2004, the Pacific Club IMPACT Foundation has donated more than $1 million to various charities throughout the country, including scholarship monies to the universities of the winners and finalists.
"We feel Larry Scott is the perfect speaker for our award," said John Hamilton, the Chairman of the Board of Directors of the IMPACT Foundation. "He represents one of the great college conferences in America and has overseen it with both vision and compassion."
Previous keynote speakers at the annual Lott IMPACT Trophy banquet have included Bill Walsh, Merlin Olsen, Jack Kemp, Frank Gifford, Keith Jackson, Brent Musburger and Dr. Condoleezza Rice.
Scott became commissioner of the then Pac-10 Conference in July of 2009. He previously had served six years as Chairman and CEO of the Women's Tennis Assn.
He led the conference through expansion for the first time since 1978 by successfully adding Colorado and Utah, created a Football Championship Game for the first time in conference history, secured agreement for equal revenue sharing for the firs time ever, delivered a media rights agreement with ESPN and Fox and created the Pac-12 Network.
Scott is a former tennis All-American at Harvard where he graduated with a degree in European History where he gained a lifelong appreciation for the importance of maintaining a careful balance between academics and sports.
Previous Winners, Lott IMPACT Trophy
2004–David Pollack, DE, Georgia
2005-DeMeco Ryans, LB, Alabama
2006-Dante Hughes, DB, Cal
2007-Glenn Dorsey, DT, LSU
2008-James Laurinaitis, LB, Ohio State
2009-Jerry Hughes, DE, TCU
2010-J.J. Watt, DL, Wisconsin
2011-Luke Kuechly, LB, Boston College
2012-Manti Te'o, LB, Notre Dame
Named after Pro Football Hall of Fame member, Ronnie Lott, The Lott IMPACT Trophy is awarded to college football's Defensive IMPACT Player of the Year. Founded in 2004 by The Pacific Club IMPACT Foundation, The Lott Trophy is the first and only college football award to equally recognize athletic performance and the personal character attributes of the player. The Lott Trophy is given to the player who exhibits the same characteristics Lott embodied during his distinguished career: Integrity, Maturity, Performance, Academics, Community and Tenacity. Voters for the award include selected members of the national media, previous finalists, the Board of Directors of the Pacific Club IMPACT Foundation and a distinguished group of former college football head coaches.