via www.sportsbusinessdaily.com By Tripp Mickle, Staff Writer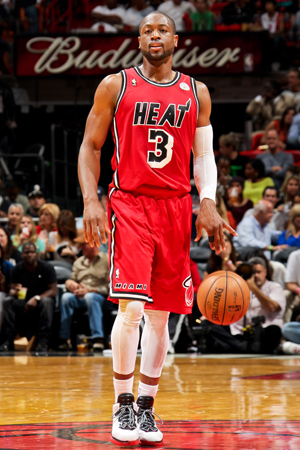 In the NBA, marketing drives everything from ticket prices to the songs that play in an arena. It even determines what jerseys players wear.
The league allows teams to have a white home uniform, a dark road uniform, as many as three alternate uniforms, a cultural uniform and an event uniform, which is developed by the league.
Every year in mid-August, teams are required to submit what they plan to wear for each game. That allows the league's apparel, sporting goods and basketball partnerships, a unit run by Christopher Arena, to review it, see if a team wants to wear an alternate dark or colored cultural uniform at home, and tell the opposing team to wear white for that game.
The Heat's alternate red look became synonymous with the team's 27-game winning streak last season.
Most teams determine what they plan to wear based on a marketing plan or promotion. The Miami Heat exemplifies the approach many teams take. The Heat has seven uniforms each year: home white, road black, road red, a cultural uniform that's playoff themed, a Noche Latina jersey, a holiday jersey and a classic jersey.
The dates the jerseys are worn are determined by the marketing division, which vets its schedule with President Pat Riley. Next season the Heat will wear a "Red Zone" uniform during a string of games between Thanksgiving and Christmas. Fans will be encouraged to come to games dressed in red, and the team will run special promotions tied to its recent NBA championship.
The idea is to commemorate fan support of the team's recent playoff runs when fans wear white, said Michael McCullough, the Heat's chief marketer.
"We look at the schedule strategically and look for a group of games where we can have an impact at home," McCullough said. "We put marketing resources behind it. We create a separate player introduction video featuring the players in that uniform. We change our color scheme for our graphics and video package. We tell a complete story around the uniform so that everyone understands what we're doing and why. We've found it to be a great brand builder."
The team typically sticks to its preseason uniform schedule, but last year Miami's 27-game winning streak began when it was wearing a red uniform at home. The players wanted to keep wearing it after they won a few games, and the team sought permission from the NBA, making the red jersey the uniform of the streak, McCullough said.
But that doesn't happen often in the NBA. The league primarily views alternate jerseys as a licensing and merchandise play. The NBA monitors teams' jersey sales and recommends when they should launch an alternate jersey. As a result, when the Detroit Pistons, which only had two jerseys, began looking at creating an alternate, Arena's group supported the idea, paving the way to a navy jersey the Pistons will unveil this year with "Motor City" written across the chest.
"In the NBA, they don't miss a marketing beat," said Pistons President Dennis Mannion. "A lot of it is demand driven, and if you have moved enough primary product, then it's time to create a secondary."
Not every team determines what it wears based on that approach. Chicago Bulls President Steve Schanwald said that the team's equipment manager randomly picks 10 or 12 games during the season for the Bulls to wear their black alternate jersey on the road.
The team is selective about when it wears its annual St. Patrick's Day, green cultural uniform, which it wears as close to the holiday as possible.
"The only year I didn't like it as much was the year we played the Celtics," Schanwald said. "We ended up looking more like the Celtics than the Celtics did."