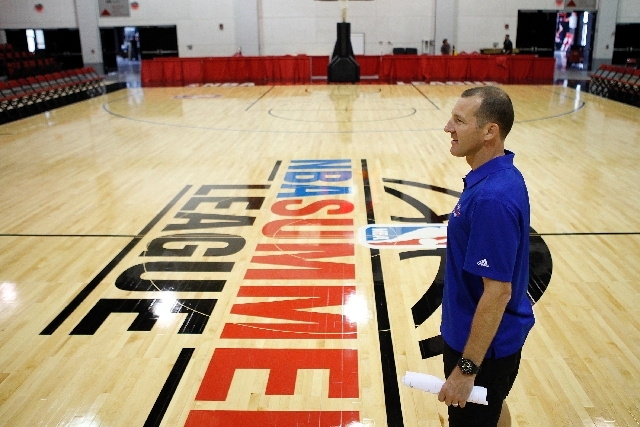 By ALAN SNEL LAS VEGAS REVIEW-JOURNAL
Shortly after hyperactive Albert Hall arrived at the Thomas & Mack Center and began checking poster placements, vendor spots and the new wood basketball floor, he gave arena director Mike Newcomb a bear hug.
Hall was off the plane and in the arena for just an hour Tuesday morning, yet the animated California sports marketer was already stoked to launch the NBA Summer League's 11-day run in Las Vegas starting Friday.
"What's up dude? I like it," Hall said, smiling at Newcomb's spiky haircut.
Hall is the business and logistics half of the duo that stages the NBA Summer League, a 22-team, 61-game extravaganza that attracts the world's professional basketball industry to Las Vegas from Friday to July 22.
Rookies, free agents and grizzled veterans trying to capture NBA roster spots will be in Las Vegas hoping to impress 300 scouts from around the globe. NBA owners will hobnob next week at the league's board of governors session. Coaches and general managers will mingle with players and agents in a relaxed atmosphere akin to Major League Baseball's spring training.
The man who choreographs the business side of the big-time hoops gathering for the NBA is Hall, who teams up with NBA coach agent Warren LeGarie of San Francisco for summer league.
"It's the business of basketball. The Sundance of basketball. The Burning Man of basketball. The NBA winter meetings," Hall said. "If you're in the basketball business, you need to be here."
It all began in Las Vegas with six teams in 2004. Now, ESPN's popular "SportsCenter" will broadcast live from a platform near the Thomas & Mack basketball court Monday through Thursday , and NBA TV will cover all the games. And for the first time, the league will crown a tournament champion.
About 50,000 people are expected to attend the event.
"This year, this thing has blown up, and he's the one who spearheaded it," said Marni Colbert of Denver, who handles team operations for the NBA Summer League.
Hall, 44, of Newport Beach, Calif., entered the NBA big-time in Seattle in 1993, staffing the front desk at the SuperSonics practice facility. He met LeGarie there nearly 20 years ago when former Sonics coach George Karl asked Hall to pick up his agent — LeGarie — at the airport.
"George Karl told me to look for the surfer dude. That's what Warren looked like," Hall recalled.
After a brainstorming session in San Francisco, LeGarie and Hall unveiled the summer league in Las Vegas in 2004. LeGarie was great at schmoozing, while Hall hustled the business deals.
The NBA Summer League's seven-figure budget includes money for its first wood floor, assembled this week. No more NBA Summer League logo stickers covering the UNLV Rebels' basketball floor.
Hall, a graduate of Washington State University, worked as a blackjack dealer in Lake Tahoe before he landed the Seattle SuperSonics volunteer position. He's now the president of his own sports marketing firm, HallPass Media, and vice president of NBA Summer League business operations.
Hall has a core staff of 10 employees, plus 50 contract workers.
He also has a cadre of interns, who use the summer league to network and job hunt for positions with NBA teams, just as the players do. Past summer league interns have gone on to jobs in public relations, marketing and broadcasting for NBA teams, Hall said.
"People (from) all over the world come to work the summer league," he said.