via www.adage.com by Michael McCarthy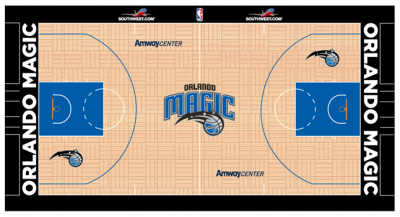 The NBA will test a new advertising program next season that will enable its 30 teams to sell ads in two new spots inside their arenas: on the floor courtside and atop backboards.
Teams in the 2013-2014 regular season will be able to sell ads to appear on the courtside apron in front of player benches, although not on the in-bounds area of the court itself, and on top of backboards, said Chris Granger, exec VP-team marketing & business operations at the NBA, confirming a report in Sports Business Journal.
The new ad spaces, especially the apron in front of player benches, will be highly visible to local TV audiences. Currently, those spaces are limited to team branding messages such as the addresses of team web sites or team Twitter handles.
Mr. Granger declined to speculate how much NBA clubs would be able to raise in new ad revenue. "The market will let us know how much this is worth," he said. The courtside space garners a significant amount of exposure, he noted, showing up in many camera shots as games progress.
The tops of backboards, on the other hand, are only visible in shots from the cameras looking directly down on the hoops. Ads there will appear to TV viewers "far less," Mr. Granger said. "You'll certainly see it a handful of times per game," he added.
The one-year trial run comes with a catch, however: The ads, removable decals, will only be permitted during locally-televised preseason and regular season games. During nationally-televised NBA regular season and playoff games on TNT and ESPN, the ad decals will be removed.
The NBA will "discuss" selling the new ad spaces to national advertisers for national telecasts, said Mr. Granger, but a decision is unlikely to come in time for the 2013-2014 season.
Down the road, the NBA is considering a far more lucrative idea: selling ads on player jerseys.
Adam Silver, who'll succeed David Stern as NBA Commissioner Feb. 1, is viewed as far more flexible on the idea of stitching small sponsor patches on player jerseys. In 2012, Mr. Silver said NBA teams could raise $100 million in new revenue through ads on jerseys. WNBA teams have sold ad patches for several seasons.
"It is something we're continuing to talk about, and continuing to evaluate, but it won't be for next season," said Mr. Granger.
Pro soccer teams in Europe and Asia routinely sell advertising space on player jerseys to sponsors. With the exception of NASCAR, U.S. leagues have resisted the idea, limiting brands to small logos of the league's official outfitter.