Via Marcus Thompson II/San Jose Mercury News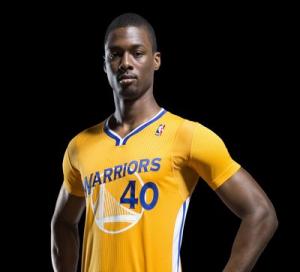 The Golden State Warriors will be the first NBA team to wear a jersey with sleeves.
The Warriors will debut the yellow alternate uniforms on Feb. 22. They will also wear them on March 8 against the Rockets and March 15 against the Bulls.
"It was the right moment, the right team," said Lawrence Norman, Adidas' vice president of global basketball. "Even more important, the right city. When you launch something as innovative as this — that will change the way the players look on the court and the way the fans support the team forever — why not launch it in the most innovative part of the United States?"
The uniform is also made with 60 percent recycled material.
"I think it will be a trendsetter," rookie forward Harrison Barnes said. "I think its something it will take people a little bit of time to get used to, but once they do it'll be good. As long as I'm able to shoot and move, that's all that matters."