HallPass Media has completed its production of adidas summer basketball – season 4, scheduled for release in late October. The two-dvd set features over nine hours of footage and broadcast coverage, including the championship games from prestigious adidas events broadcasted on CBS Sports Network.
Footage includes:
– adidas Invitational title– featuring Kasey Hill and Chris Walker's Florida Rams as they capture back to back tournament titles
– Super 64 championship– Michigan Mustangs stellar team performance takes home the trophy
– adidas Nations 3rd place-Â Team Australia and USA 2014 battle for international bragging rights
– adidas Nations championship-Â Co-MVP performance from Noah Vonleh & Emmanuel Mudiay, as pair appears primed for stardom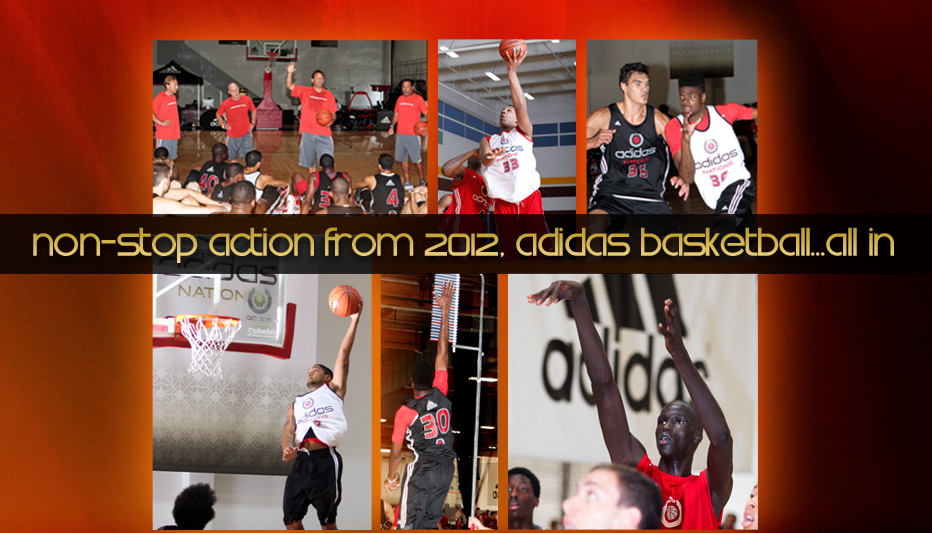 Also featured are highlights from the adidas Nations Experience 2012. The top high school and college basketball players from around the world take part in an NBA style training experience and tournament format under the watchful eye of NBA coaches and players. From China to Long Beach, the likes of Dwight Howard, Derrick Rose, Kenneth Faried and many more lend a hand to aspiring young players Noah Vonleh, Emmanuel Mudiay, Jahlil Okafor, Nate Britt, Nigel Williams-Goss, Dante Exum, Ben Simmons, Thon Maker, Allerik Freeman, Kasey Hill, Chris Walker, Zak Irvin, Trey Lyles, Cliff Alexander, Steven Adams, Nerlens Noel, and many more all provide a glimpse into the future of global basketball.
Past players that have participated in adidas nations are Derrick Rose, Jrue Holiday, Serge Ibaka, Shabazz Muhammad, Andre Drummond, Eric Gordon, Brook and Robin Lopez, Mike Conley, Alex Burks, and many more!
HallPass Media has provided a variety of solutions for adidas grassroots basketball over the past five years. HallPass deployed a series of online tools for both internal and external usage and produced a robust library of digital branded content shared via social media, viral video, promotional clips and internal communications. Additionally, HallPass secured and activated several sponsorships for the adidas Nations property and executed all on-site camp operations, staffing and tournament logistics. HallPass secured the partnership with CBS Sports Network for all broadcast coverage of the adidas summer basketball championships.
View the adidas platform snapshot here at the adidas Partner Page.