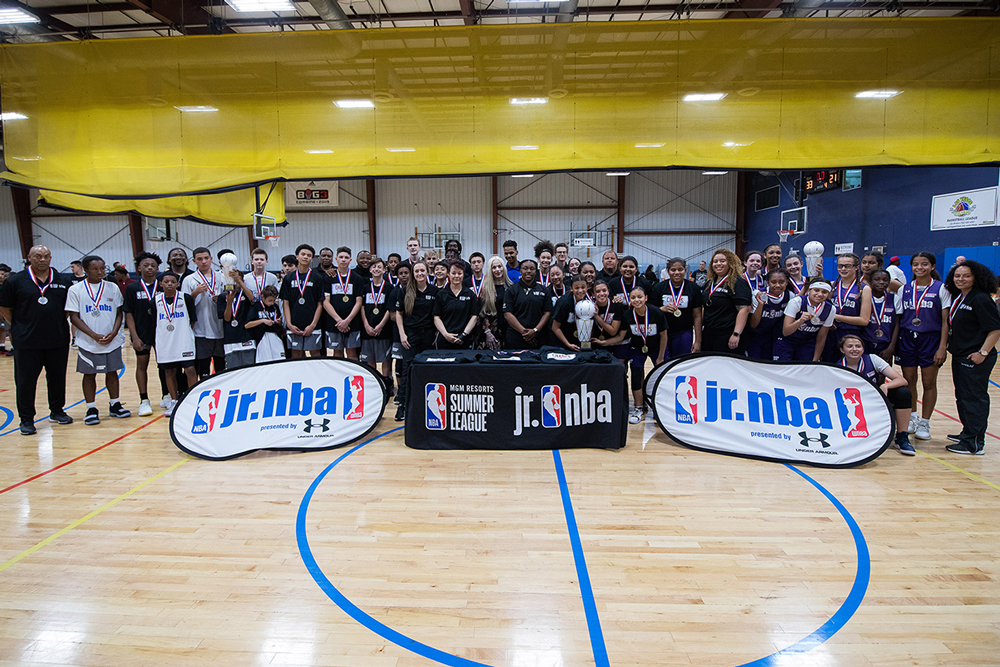 The Summer League Jr. NBA wraps up Friday Night Hoops 2019 Spring League and crowns new and also familiar champions at the Tarkanian Sports Academy.
In the Girls division Coach Taylor and her #1 seeded Sparks become back-to-back Champions as they went on to defeat the #3 seeded Aces led by Coach Nitza. As for the boys, the #6 seeded Suns and Coach Daimar went on to take their first Championship Trophy over the #1 seeded Wizards led by Coach Tatum.
The 2019 Spring League consisted of a total of 148 student athletes across 14 teams (8 boys and 6 girls teams) grades 6-8th.
Teams participating along with their coaches include:
Girls Teams:
#1 Sparks – Coach Taylor
#2 Mystics – Coach Nichols
#3 Aces – Coach Nitza
#4 Sky – Coach Rana'
#5 Mercury – Coach Carena
#6 Dream – Coach Justice
Boys Teams:
#1 Wizards – Coach Tatum
#2 Cavaliers – Coach Martez
#3 Warriors – Coach Kevan
#4 Lakers – Coach Jon
#5 Spurs – Coach Markcus
#6 Suns – Coach Daimar
#7 Celtics – Coach Mac
#8 Raptors – Coach Perryn
Congratulations to our winners and special thanks to all of our girls and boys teams, coaches and staff for putting together yet another great season of the Summer League Jr. NBA! See below highlight photos from the 2019 Spring League Championship game!
For more information and further updates of Summer League Jr. NBA basketball, please visit:
The Summer League Jr. NBA is funded by the Tomorrow's Stars Foundation.