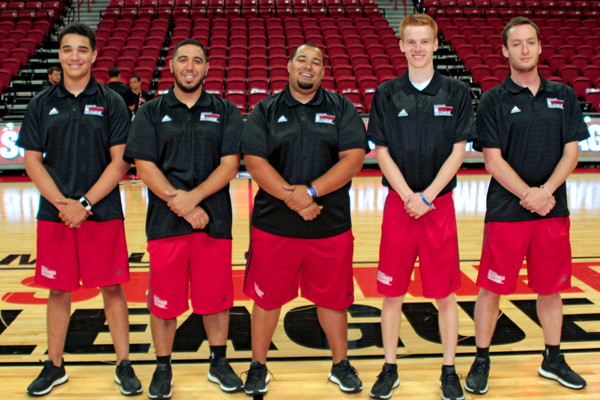 via Northwood University
Northwood senior Tyler Makins spent his summer interning while surrounded by some of the most important people in the NBA. Here, he shares a little bit about himself, his experience, and what it was like to work with big names while keeping a cool head.
I dual major in Marketing and Sports Management, graduating this spring.
What student organizations are you involved with on campus?
I've been a member of both the Sports Management Association at Northwood and the Kappa Sigma Fraternity Chapter here since my sophomore year, taking an active role in each organization.
How did you get involved with this opportunity?
I got involved with the NBA Summer League through our former Sports Management Department Chair at Northwood, Dr. Preston James IV. In the spring of 2015, he told me about an opportunity to attend a conference at the Summer League that year called the Sports Business Classroom (SBC). The SBC featured speakers who were already professionals in the NBA (head coaches, scouts, general managers, ESPN personalities, broadcasters, etc.) that taught sessions that related to their field. Dallas Mavericks Head Coach Rick Carlisle came and spoke to us about coaching, Portland Trailblazers General Manager Neil Olshey came and spoke about player evaluation and working your way from the bottom of the industry to the top. It was just super interesting to get an inside look at the NBA, something I had been dreaming of for years. At the end of the conference, the staff leaders chose 5 people (there was around 50 attendees total) to return the next summer to serve as interns for the actual Summer League. I was lucky enough to be one of those 5 selected, so I was able to come back this past summer in a bigger role.
What were some of the most important things you learned during this experience?
During the two years that I've spent with the NBA Summer League, I've learned so much, it's hard to narrow it down to a few things. If I had to, I'd say that being a star in your role is very important. My goal was to get to know everyone who I was interning with, and to volunteer for any and every job or task that needed to get done. It's so important to stick out, and being friendly and working hard and efficiently at least gets you on the way. It's also important to ask questions and learn. Don't be afraid to fail, but you have to learn from the failures and improve yourself and those around you.
How will you apply this experience to your future education and career?
Using this experience down the road in my career, I think the biggest thing that will help me is learning how to communicate with and be around big NBA names. The Summer League has grown so much since its inception. They had 23 NBA teams plus the NBA D-League send teams to Las Vegas (where the Summer League takes place) to compete this past year. Each team also sends coaches, scouts, and other personnel to watch the games and evaluate talent. The Summer League is essentially a big NBA tryout for the players, coaches, and referees there, who are trying to show that they can perform at an NBA level. So you see head coaches, general managers, and everyone else you could think of. I even had the opportunity to meet the Commissioner of the NBA, Adam Silver. The point is that there is a lot of big personnel there, so it's important to keep a cool head and remember that they're people too and they probably either want to be left alone or to talk basketball, so you have to walk a fine line. My strategy was to get to know media members, because they're more open to communication and may be a little easier to approach – they still have the contacts though, so they're good people to become friendly with. When they say it's who you know, not necessarily what you know, I can't endorse that enough.
Why do you think it is important for students to have these types of experiences while they are in school?
It's important to do these things while you're still in school because it's just that much more extra preparation for when you get out into the real world. My experience as an intern at the Summer League will mostly likely mirror whatever it is I'll be doing in my first job with player/team operations, so now I know what will be expected of me and the level that it's necessary to work at in order to be successful. It also doesn't hurt to have a name like "NBA Summer League" on my resume. It's just crucial to gain as much experience as possible, that's always been my philosophy.
What was the highlight of the experience for you?
It's really hard to narrow down the list of highlights during this time for me. Obviously just getting to know the other interns was great. There was around 75 employees, with at least half being new to the staff this season like myself, and they came from all over the world, so it was just really interesting hearing everyone's back story and the things they've done. A lot of them had experience working with teams and in the league already or were related to someone working in the league, so it was cool to hear some of the stories they had. I also just really enjoyed being in an environment that centered around the NBA for two straight weeks. Okay sure, being in Las Vegas for that time was fun, but if that time didn't center around 12-16 hours of basketball everyday, I don't think I'd have had as much fun. It was also an extreme honor to be selected as the "Rookie of the Year" intern at our wrap-up banquet. Like I said, working out there was a dream come true, so to be selected to receive that award was really something special and it only further cemented the fact that I knew this is where I wanted to be and what I wanted to spend my life doing.
To read the full article, click here: What's It Like to Intern with the NBA? This Northwood Senior Shares His Story