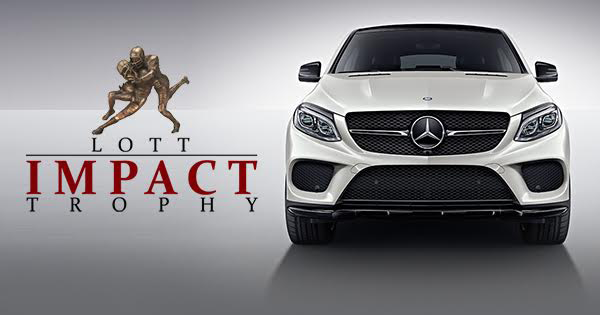 HallPass Media is pleased to announce that Mercedes-Benz USA will be once again be an official partner of the Lott IMPACT Trophy, marking the third consecutive year of the partnership. HallPass is the agency of record for the Lott IMPACT Trophy, which recognizes College Football's Defensive Best in Character and Performance.
Named after 4-time Super Bowl winner and Pro Football Hall of Famer Ronnie Lott, the Lott IMPACT Trophy recognizes young men who not only perform on the field, but also off the field. The award celebrates defensive college football players that embody the IMPACT acronym; Integrity, Maturity, Performance, Academics, Community and Tenacity.
The 2014 Lott IMPACT Trophy was awarded to UCLA stand-out Linebacker Eric Kendricks, and has been won by some of today's top defensive players in the NFL including 2013 Defensive Player of the year Luke Kuechly (Boston College) and 2012/2014 NFL Defensive Player of the year J.J. Watt (Wisconsin).
"Mercedes-Benz USA is proud to be a sponsor of the Lott IMPACT Trophy for the third consecutive season. Our sponsorship of the Lott IMPACT Trophy has grown from year to year and it is a rewarding experience to be a part of a program that celebrates the same core values our brand – the best or nothing" said Bob Yeatman, General Manager, Mercedes-Benz Western Region. "We are looking forward to another great season of college football and watching all of the candidates make an IMPACT both on the field and in their communities."
"We are honored that Mercedes-Benz USA is continuing their premiere partnership of the Lott IMPACT Trophy for the third straight year," said Ronnie Lott. "Our partnership with Mercedes-Benz USA has continued to blossom and in turn, has allowed us to create more awareness about these outstanding young men as student athletes. Mercedes-Benz USA and the Lott IMPACT Trophy share the same principles for success, placing an emphasis on character and performance."
A Look Back at the 2014 Lott IMPACT Trophy