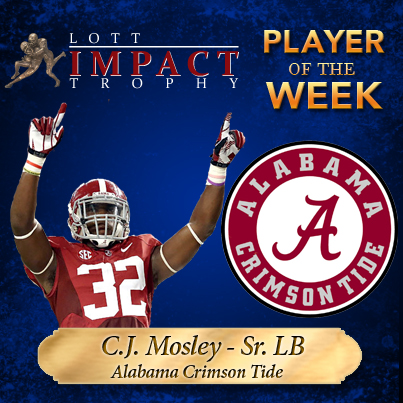 NEWPORT BEACH, Ca. – Alabama Linebacker C.J. Mosley has been named the Lott IMPACT Player of the Week. The 6-2, 238-pound senior from Mobile, Alabama had a dominating game against LSU Saturday, recording a team high 12 tackles (one and a half for losses) and breaking up two passes in an impressive 38-17 win for the No. 1 ranked and undefeated (9-0) Tide.
The Pacific Club IMPACT Foundation will make a donation of $1,000 to the general scholarship fund at Alabama to recognize Mosley's achievement.
Mosley is one of 20 quarter-finalists for the annual Lott IMPACT Trophy, which will be presented Dec. 8 in Newport Beach, Ca.  The Lott award is the only major college award based on character.  IMPACT stands for Integrity, Maturity, Performance, Academics and Tenacity.
"He's like the captain of the ship," defensive end Jeoffery Pagan told Sports Illustrated. "He comes out there. He gets the call. He relays it to everyone else. He controls everything."
For the season, the returning All-American leads Alabama with 71 tackles, including seven tackles for losses.
Along with the National Voter Panel, college football fans can now influence The Lott IMPACT Player of The Week by voting online. Go online at  www.lottimpacttrophy.org/vote or www.facebook.com/lotttrophy to cast your vote. Voting will open each Sunday at 8 A.M. as the candidates for the Lott IMPACT Player of the Week are announced. Voting will close at 9 P.M. Monday evening throughout the season.
2013 Lott IMPACT Players of the Week
Week I – Devon Kennard, USC
Week 2 – Ed Reynolds, Stanford
Week 3 – Anthony Barr, UCLA
Week 4 – Spencer Shuey, Clemson
Week 5 – Alden Darby, Arizona State
Week 6 – Eric Kendricks, UCLA
Week 7 – Bryce Hager, Baylor
Week 8 – Lamarcus Joyner, Florida State
Week 9 – James Morris, Iowa
Week 10 – Ryan Shazier, Ohio State
Week 11 – C.J. Mosley, Alabama
Other notable performances by players on the Lott IMPACT Trophy Watch List were:
Chris Borland (LB, Wisconsin): Had game high 13 tackles, 2 sacks, 2.5 tackles for loss in win over BYU, 27-17.
Ifo Ekpe-Olomu (DB, Oregon): Had 12 tackles and forced a fumble in loss to Stanford, 26-20.
Eric Kendricks (LB, UCLA): Had team high 13 tackles and broke up one pass in win over Arizona, 31-26.
Derron Smith (S, Fresno State): Intercepted his 5th pass of season and returned in 36 yards also had a tackle for loss in win over Wyoming, 38-10.