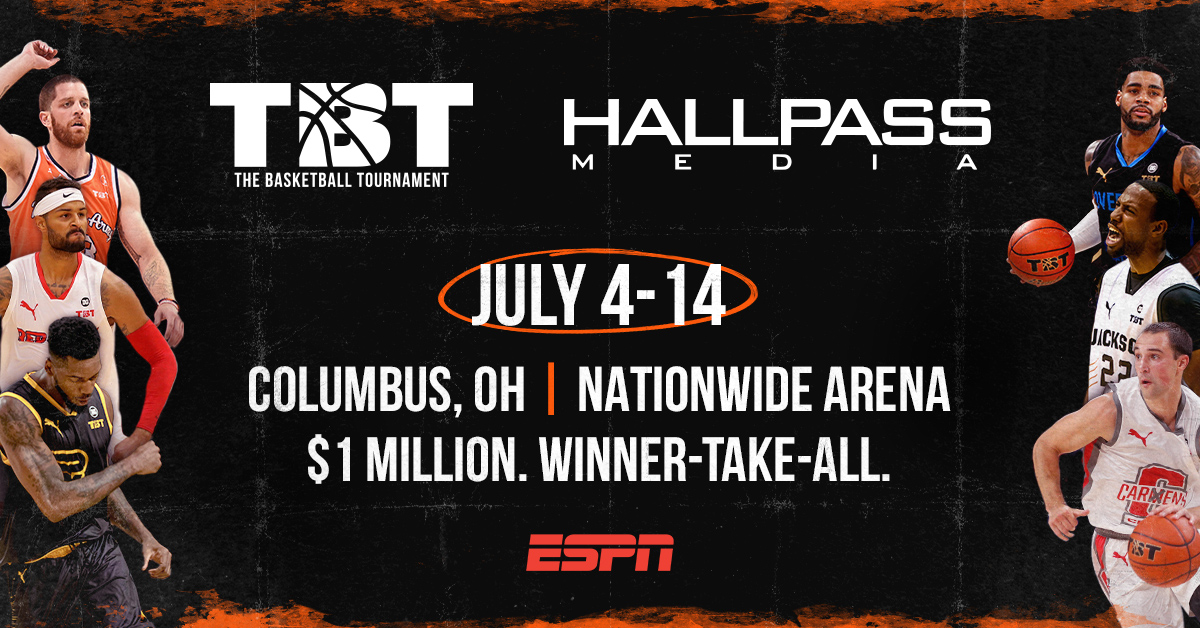 HallPass Media to Assist The Basketball Tournament (TBT) On First Live Basketball Event Since Pandemic
Full-service marketing agency, HallPass Media, has been hired by The Basketball Tournament (TBT) home of the Elam Ending to provide marketing and content services for the upcoming 2020 event slated for July 4- 14 in Columbus, OH. The Basketball Tournament is an open-application, single-elimination tournament played each summer in the United States and broadcast on ESPN. TBT was founded in 2014 and has offered at least a $1 million winner-take-all prize for the champion each summer since its inception.
The agency's focus is on promoting, marketing, and developing The Basketball Tournament's brand identity, digital content and storytelling capacity as one of the first sporting events to return since the pandemic. In addition to positioning the tournament as a must-watch yearly event, HallPass is focused on developing a fully integrated marketing platform to assist with game coverage, off the court content, and a behind the scenes look at what life inside the "Inter Island Quarantined Area" will look like. Through digital and social media, web shows, player interviews and more, HallPass is determined to make the 2020 TBT an event to remember. TBT has partnered with ESPN on a select broadcast game schedule produced through a remote broadcast location. As the embedded team on the ground, HallPass will produce and distribute content through a variety of channels.
"HallPass is excited about partnering with TBT and continuing the momentum Jon and his team have built." said Albert Hall, President and Founder of HallPass Media. "We can appreciate starting something from the ground up and dealing with adversity. Our job is to help tell the TBT story and assist in developing the brand cache throughout the basketball landscape. It's a unique opportunity being the first live basketball event since the pandemic, and many of these players either didn't have an NCAA tournament this year or have been without a place to play professionally the past few months. The entire sports landscape is experiencing change and we pride ourselves in being nimble enough to adapt. The competition level of TBT is tremendous, and the players deserve to take center stage during this unique time."
As an industry leading marketing agency, HallPass is known for producing impactful, multichannel marketing campaigns centered around strategic collaboration, savvy digital media campaigns and storytelling that engages the hearts and minds of fans and audiences. "We're excited to partner with HallPass Media and their team of experts. They have an excellent history in the sports landscape, we've admired their work with NBA Summer League and other basketball properties and TBT aligns very well with their specialties," said TBT founder and CEO Jon Mugar.