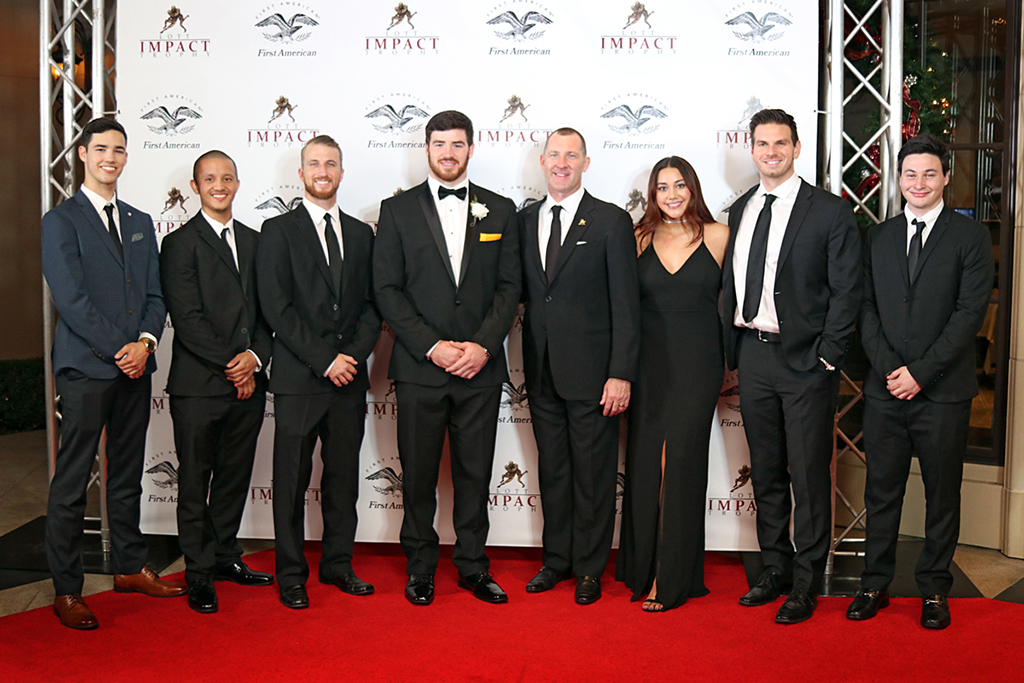 This past Sunday on December 10, the HallPass team had their hands full with producing another successful event at the 14th annual Lott IMPACT Trophy awards ceremony. The ceremony was held at the Pacific Club in Newport Beach and televised LIVE on CBS Sports Network with Mark Malone hosting.
Prior to the big night, three of the four finalists – Josey Jewell of Iowa, Micah Kiser of Virginia and Harrison Phillips of Stanford – were all invited down to Newport Beach for a brunch at the Stag Bar + Kitchen, interviews on the beach, individual sit downs with Mark Malone and some quality time spent with their families. The fourth finalist, Minkah Fitzpatrick of Alabama, was unable to make the brunch due to a flight delay. The finalists were able to gain a brief experience of the Southern California sunshine and lifestyle before they headed off back to their alma maters for school finals and bowl games.
Hours later, all four finalists made their way to the award ceremony for the red carpet along with board members, attendees and media. Following the red carpet was the hour long live broadcast of the award featuring segments of each finalist, interviews by John Schriffen, a message from the trophy's namesake Ronnie Lott, honorary awards and the 2017 winner.
The winner was uniquely announced by the blind USC Long Snapper and 2017 Lott IMPACT Trophy Honoree Jake Olson, who read the winner in braille. After lightening up the moment with his jokes, Jake announced Iowa's Senior Linebacker Josey Jewell as the 2017 Lott IMPACT Trophy winner.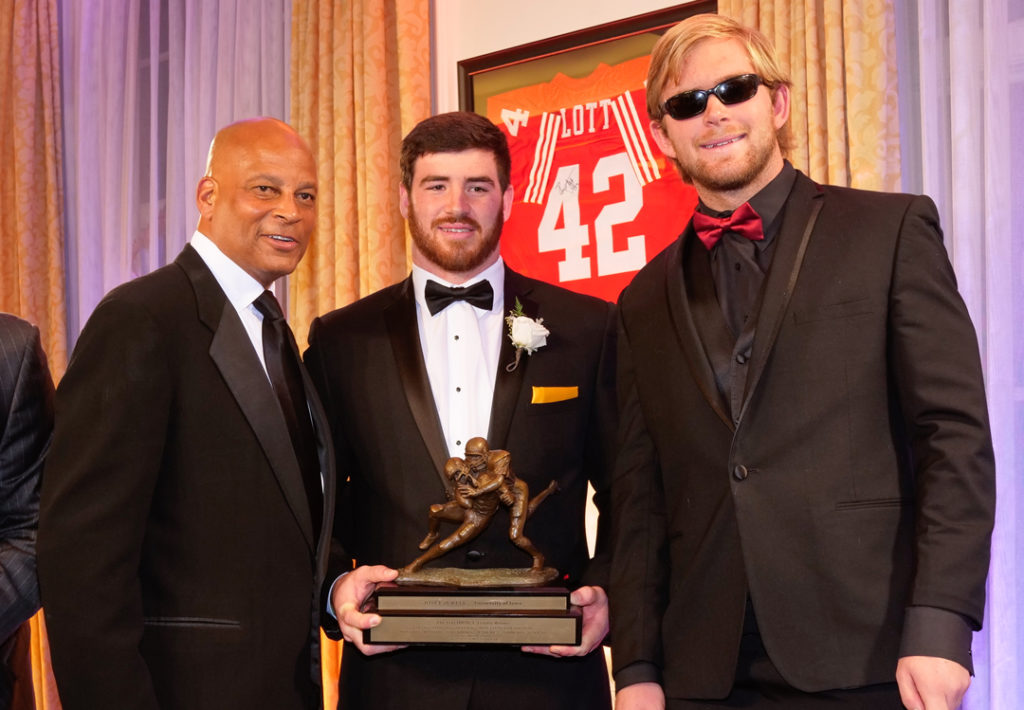 Josey Jewell, a 6'2" 236 pound Decorah native, was awarded for having a great IMPACT on his team. IMPACT is an acronym which stands for Integrity, Maturity, Performance, Community and Tenacity. Josey is a 2 time Lott IMPACT Player of the Week, was named to the Associated Press All American team and claimed the Big Ten Defensive Player of the Year.
In recognition of Josey earning the 2017 Lott IMPACT Trophy, Iowa will be receiving $25,000 for its general scholarship fund from the Pacific Club IMPACT Foundation. Alabama, Virginia and Stanford will be each receiving $5,000 for their general scholarship in honor of Fitzpatrick, Kiser and Phillips being named Finalists!
The excitement of the night wasn't over once the trophy was presented. In a dinner presentation following the award ceremony, over $15k was raised by the Pacific Club IMPACT Foundation towards their charitable contributions including: The HITS Program, the California Showcase, All Stars Helping Kids and more.
In addition to Josey's achievement, the Lott IMPACT Trophy honored J.J. Watt, Jake Olson, Bill Johnston and David Perkins for their inspiring accomplishments.
From the production to the marketing of this year's ceremony, we certainly had our hands full. We were glad to take on the challenge and add another great ceremony to the books.
Gallery of 2017 Lott IMPACT Trophy Ceremony: