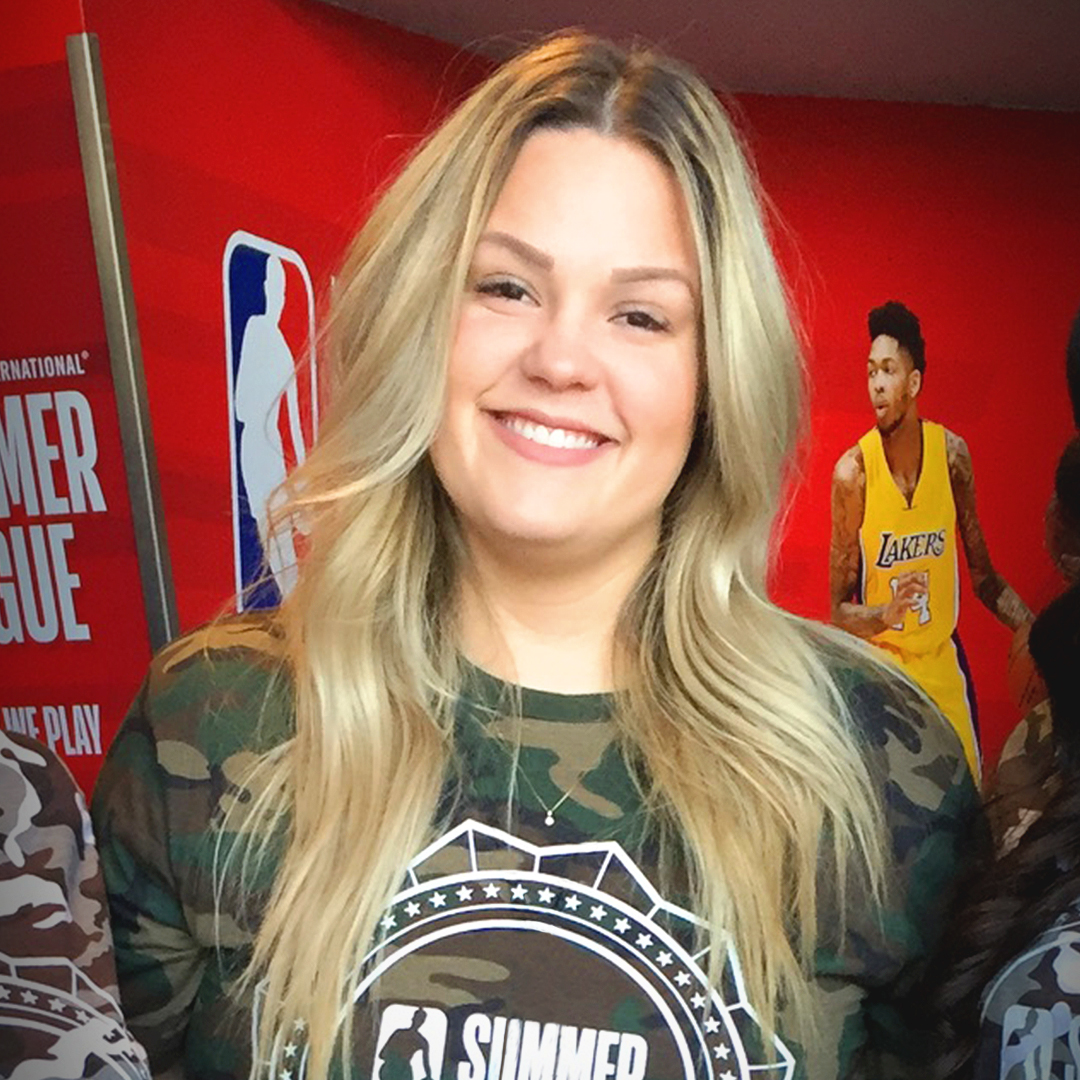 Throughout the many years of working the NBA Summer League, we're fortunate to have had so many individuals be part of our growing family. It's a great feeling to know that we are able to help them pursue their career in the sports world.
This week's Alumni Spotlight features veteran NBA Summer League staff member Carley Sisolak. Carley has been working with Community Relations for the NBA Summer League for 4 years now.
She is currently working for the Vegas Golden Knights hockey team and we wanted to catch up and see how she's doing!
Q: Tell us about your 4 year experience with the NBA Summer League, your job responsibilities and how you got involved.
I got involved with the NBA Summer League through Carole Hattar. I knew her son pretty well and when he mentioned she was looking for a new assistant, I jumped at the opportunity. Our team handles community relations, which includes the St. Jude Silent Auction, anthems and halftimes, ball boys, and community groups coming to the games – among other things!
Q: What did you learn at the NBA Summer League that you've been able to apply within your current job?
I learned the importance of multitasking and how to move at a fast-pace. Summer League is an incredibly busy eleven days, like a shorter season. Having so many things happening at once taught me to prioritize and work smarter not harder.
Q: You currently work for the Vegas Golden Knights as the Marketing and Events Manager. What are your daily responsibilities?
Where to start! Our marketing team handles all team branding, events, youth hockey and all community outreach.  So as you can see, no two days are the same. We collaborate and work together to come up with innovative marketing ideas, brainstorm on fun promotional items and the execution of events. Our team also handles player appearances and meet and greets, as well as community outreach programs. We are working on growing the game through many avenues including getting hockey into the Clark County School District, as well as into the community in general.
Q: What is your favorite / most rewarding part of your job?
Creating memories for Vegas Golden Knights fans! Being part of this team is truly a blessing and something so many people will never get a chance to do – starting a team from the ground up allows us to create so many amazing memories for the people of Las Vegas.
The community aspect of my job is easily one of the best parts. I get to plan and facilitate community events and outreach. We've have been able to do some amazing things with the players in the past few months. Immediately following the tragedy here on October 1, we visited fire responders, families, hospitals, and a blood bank. We also had a hugely successful toy drive and visited the Nevada Childhood Cancer Foundation. Those are the things that make all the hard work worth it.
Q: Where do you see yourself in 5 years?
That is a tough question – I try to focus on the present. I see myself advancing in the sports industry and continuing to learn all facets of marketing.
Q: Your job is one that many young people dream of having- what advice would you give a young person trying to break into sports marketing?
Work hard and make connections – there is no substitute for hard work! However, do not forget to have fun and enjoy the ride!
Role models / People you admire?
My dad – he raised me and my sister and has taught me so much. He inspires me everyday and encourages me to work hard and be the best person I can be.
Any hidden talents / hobbies?
I'm a great cook and have beautiful handwriting! I am also the Jeff Gordon of driving a box truck.
Favorite sports movie?
Remember the Titans. It teaches a story about teamwork and coming together, unity, and overcoming obstacles.
Quote you live by?
"If not us, who? If not now, when?" – John F. Kennedy
Favorite place you've gotten to travel to for work?
Over the summer, the marketing and communications team took a road trip though Nevada, Montana, Idaho, and Utah – to our extended fanbase. I planned the trip, so seeing it all come to fruition was amazing. I got to travel to some places that I would likely have never gone otherwise like Coeur d'Alene, Idaho and Whitefish, Montana. They were some of the most beautiful places I have seen!
Most memorable sporting event you've been to, whether through work or for fun?
Hands down our opening night for the Vegas Golden Knights on October 10. We had been planning for it for a year, and things drastically changed after October 1. We had 58 seconds of silence to honor the lives lost in the Vegas shooting while projecting their names on the ice. We had each player on the team, as well as coaches and our General Manager, matched up with a first responder or survivor. The anthem was sung by a group of survivors from the Route 91 concert. The entire ceremony was emotional, heartwarming, and healing for everyone. It not only brought the team together, but also the entire community in an amazing and touching way.