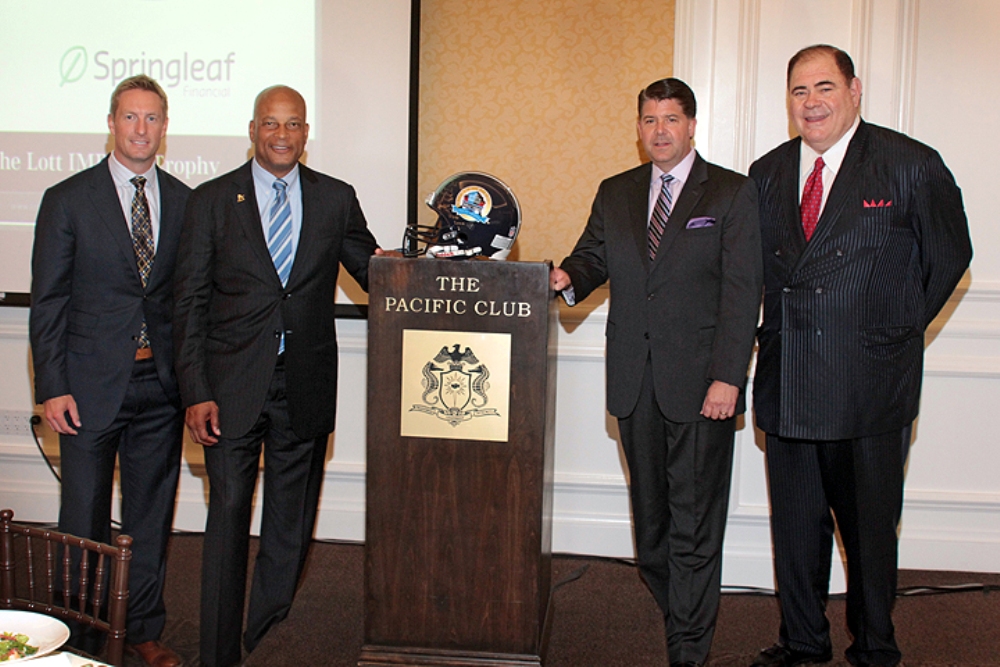 2015 Lott IMPACT Trophy Luncheon Photo Gallery
NEWPORT BEACH, Ca. – Ronnie Lott called it amazing, the president of the Pro Football Hall of Fame called it important and nearly 200 men and women heard the outstanding list of nominees for the 12th annual Lott IMPACT Trophy announced at a Pacific Club luncheon April 17.
"It's amazing how much money we have raised (nearly $1.2 million) and how much good work has been done by so many people," said Lott, the All-Pro and Hall of Famer from the San Francisco 49ers whose name rings loud and proud on the trophy.
"I am equally proud of the fact that we have raised so much money for a variety of charities, including universities, and the fact that the players we have honored over these past 11 years have made significant impacts in their communities as well as on the field in the NFL," said Lott to an appreciative audience. Dave Baker, the president of the Hall of Fame, was interviewed by emcee Joel Klatt – National College Football analyst from FOX Sports. Baker, a former All-American basketball player at nearby UC Irvine, said the members of the Pro Football Hall of Fame exhibit unusual character, a criteria for consideration for the Lott IMPACT Trophy. "I have been extremely impressed by these men, what they stand for and how willing they are to help in any way they can," said Baker.
To continue reading, click here.