Via LottImpactTrophy.org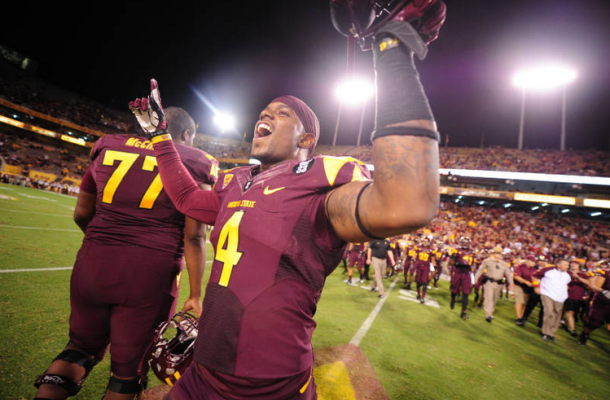 NEWPORT BEACH, CA. – Arizona State Safety Alden Darby has been named the Lott IMPACT Player of the Week.
The 5-11, 195-pound senior from Long Beach, California, had two interceptions – one returned for a 46-yard touchdown, and a forced fumble that he recovered in a 62-41 win over USC.
In recognition of Darby's performance, the Pacific Club IMPACT Foundation, sponsors of the Lott IMPACT Trophy, will make a $1,000 donation to the general scholarship fund at Arizona State.
Darby's big plays were instrumental in ASU' s stunning rout of USC. The turnovers he created led to 17 points. The Sun Devils' co-captain had also returned an interception for a 70-yard touchdown last season in a win over USC.
Darby has overcome long odds to become a successful student-athlete. As a teenager, his single mother was arrested and spent three months in prison, leaving Darby to fend for himself. He lived home alone with no electricity for that period of time.
At Arizona State, he is one of the most popular players in the community and frequently asked to speak to youth groups. "People really respond to him, respond to his message," said Jean Boyd, the Senior Associate Athletic Director at the university.
2013 Lott IMPACT Players of the Week
Week 1 – Devon Kennard, USC
Week 2 – Ed Reynolds, Stanford
Week 3 – Anthony Barr, UCLA
Week 4 – Spencer Shuey, Clemson
Week 5 – Alden Darby, Arizona State
Other notable performances by players on the Lott IMPACT Trophy Watch List were:
Nat Behre (San Diego State, DB): Led Aztecs with 7 tackles in 26-16 win over New Mexico State.
Chris Borland (Wisconsin, LB): Had a game high 16 tackles in loss to Ohio State, 31-24.
Aaron Donald (Pitt, DL): Had two more sacks (giving him 6 for the season), forced a fumble and had two quarterback hurries in win over Virginia, 14-3.
Ifo Ekpre-Olomu (Oregon, DB): Had an interception and 8 tackles in 55-16 win over Cal.
James Morris (Iowa, LB): Had an interception, a sack and 8 tackles in win over Minnesota, 23-7.
D.J. Moseley (Alabama, LB): Recorded 7 tackles, broke up one pass as Tide rolled over Ol' Miss, 25-0.
Ryan Shazier (Ohio State, LB): Had 9 tackles, 2.5 tackles for loss, a quarterback hurry and forced a fumble in win over Wisconsin, 31-24.