Players Sacrifice for Greater Good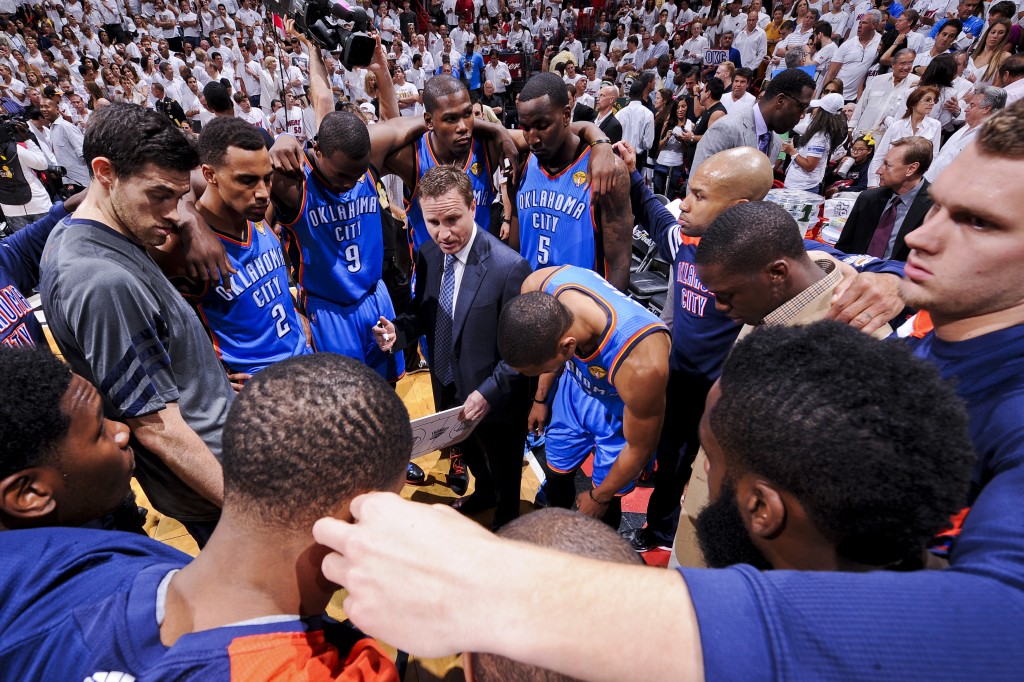 By NICK GALLO | Thunder Basketball Writer
At its core, sports are a unifying part of society because they tap into every person's desire to belong to something greater than themselves.
Throughout the Thunder organization, that feeling is palpable in every corner of the INTEGRIS Health Thunder Development Center, the business offices and Chesapeake Energy Arena. Players, coaches and members of the staff understand their roles and chip in accordingly in pursuit of common goals and successes. Throughout the 2012-13 season, the most public part of the organization has personified that sacrifice and teamwork, as all of the players on Head Coach Scott Brooks' team have worked as hard as possible to make a positive contribution.
"All of them have sacrificed themselves on the practice court every day," Brooks said. "You couldn't ask for a better group of guys to continue to build this team and move this team forward with the work they put on the practice floor."
The key to that collective success, which now includes the organization's first 60-win season and first number one seed in the Western Conference Playoffs since the team arrived in Oklahoma City, has been the dedication by the team for the past five years. It wasn't an overnight jump from the lottery to contention, but rather the slow burn of progress or a house built brick-by-brick depending on your choice of metaphor. The gradual steps were never rushed and the team was allowed to grow and develop at its own pace and rhythm.
"We've always stayed together," Brooks said. "We've always focused on us. Just that consistent approach is hard to do. I'm proud that we've done it. We've done it for a lot of years now."
The Thunder is in its fifth straight season of improving its record, including two straight years with an over .700 winning percentage. By finding consistency from week-to-week, game-to-game and quarter-to-quarter, Brooks' squad and leaders like Kevin Durant and Russell Westbrook have helped navigate the Thunder in the right direction all season. The team has stuck to its principles, maintained a defense-first attitude and dictated its pace, tempo and style to its opponents all year.
"I think it's maturity and getting older," Westbrook said. "This year we did a good job of playing our brand of basketball."
For a group of basketball players who mostly spent their high school and collegiate basketball careers without restrictions because they were the best player on the floor at all times, it can at first be unnatural to limit oneself within a team framework. The Thunder has been fantastic all year at subverting individual goals and devoting themselves to team objectives.
Nowhere was that more evident than from Kevin Durant, who will likely finish the season with nearly unheard of shooting splits of above 50 percent from the field, above 40 percent from the three-point line and above 90 percent from the three-point line. In addition, Durant will come within a point of winning the scoring title for the last four years. Durant could have gunned for that accomplishment, which would have put him in a category with only Wilt Chamberlin and Michael Jordan. Instead, he set the tone for every man on the roster, and the organization as a whole, by playing unselfish, team first basketball.
"I give Kevin a lot of credit because 10 games ago, if he was really focused on trying to get it four years in a row, he could have gotten it easily," Brooks said. "That's never been a focus. He wants to win a championship like everyone in the locker room and he's always doing the right things for the team."
"That has to be a commitment from everyone," Brooks continued. "That can't be from your players who score the most points or play the most minutes. Everyone has to chip in in that area. Everybody has done that this year."
The implicit message Durant, as one of the leaders, has sent to his team is one it already knew, understood and embodied, but it was important nonetheless. For veterans like Nick Collison and former NBA Champions Kendrick Perkins and Derek Fisher, the ability for players from every part of the roster to buy in fully to the team concept and value those goals over any other is critical. With everyone on the same page and completely committed to the common good, the organization can head into the NBA Playoffs operating with complete trust in one another.
"It's a real thing to have a common goal of winning a championship," Collison said. "I think that's what has changed here. That's where we're at right now. Those other things don't seem as important as they once did. It's good to be a part of it. Now the tough part of the season comes. So we'll have to be ready to go."