Jeremy Lin at 2010 NBA Summer League in Las Vegas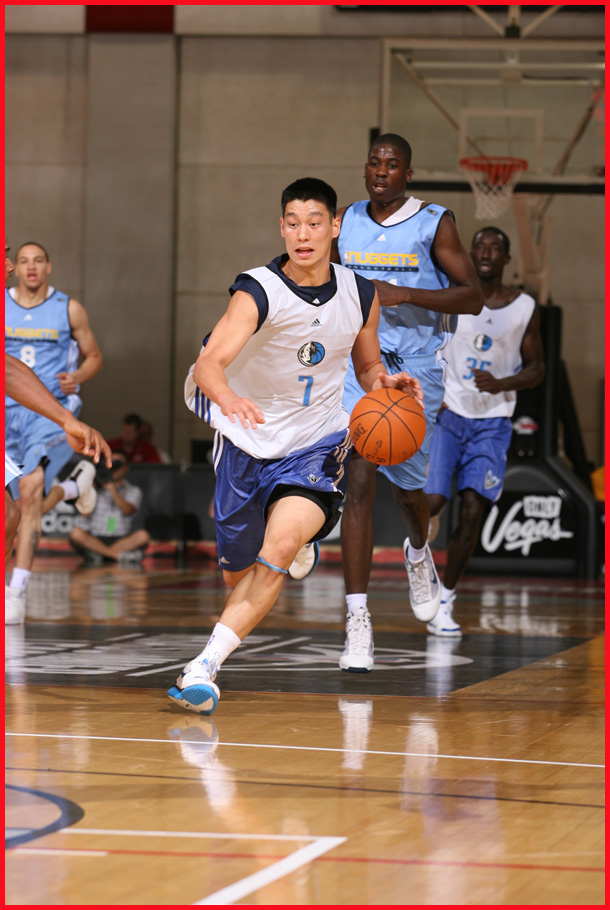 Via: CBS News-Jeremy Lin unlikely star for Knicks
(CBS/AP) – The New York Knicks are a team desperate for some good news. Their big-ticket acquisitions of Amare Stoudemire and Carmelo Anthony have yet to yield results, and the Knicks are sitting five games below .500. But a ray of hope has appeared in the form of Jeremy Lin. The 23-year-old point guard, only the forth Asian-American ever to play in the NBA, earned a starting role on Monday night's game against the Utah Jazz. He took that opportunity and ran with it, racking up 28 points in New York's 99-88 victory.
Going nowhere all season without a real point guard, the Knicks turned to Lin on Saturday against New Jersey, and he delivered 25 points. He was even better in this one in front of a crowd that again chanted his name much of the night, adding a career-best eight assists.
He made the biggest basket of a game, a desperation 3-pointer with the shot clock winding down and 1:58 remaining that gave the Knicks a 95-86 lead. He previously converted two three-point plays in the period, the latter pushing the lead to 10 with 4:29 left.
With Stoudemire out of the game to be with his family after the death of his older brother in a car crash, and Anthony sidelined with an injury, Lin was in the limelight. The former Harvard phenom certainly did not disappoint.
Lin's out-of-nowhere performance, as well as his devout faith, already have some outlets calling him basketball's Tim Tebow. It may be a little early for that comparison, but Lin's unusual path to NBA stardom is its own underdog story.
The California-born point guard went to Harvard after being overlooked by the Pac-10 schools. He was undrafted and had to prove himself in the NBA's Summer League circuit. The highlight reel of his time with the Summer League quickly turned heads.
Lin was picked up by the Golden State Warriors, but the chaos of the NBA's extended lock-out found Lin without a team. After a brief stay with the Houston Rockets, New York picked up Lin on waivers in December.
Now, Lin finds himself as the starting point guard in the biggest media market in the country. With Stoudemire and Anthony sidelined indefinitely, Jeremy Lin is the new star of the Knicks. If Monday night is any indication, Lin already knows how to shine.