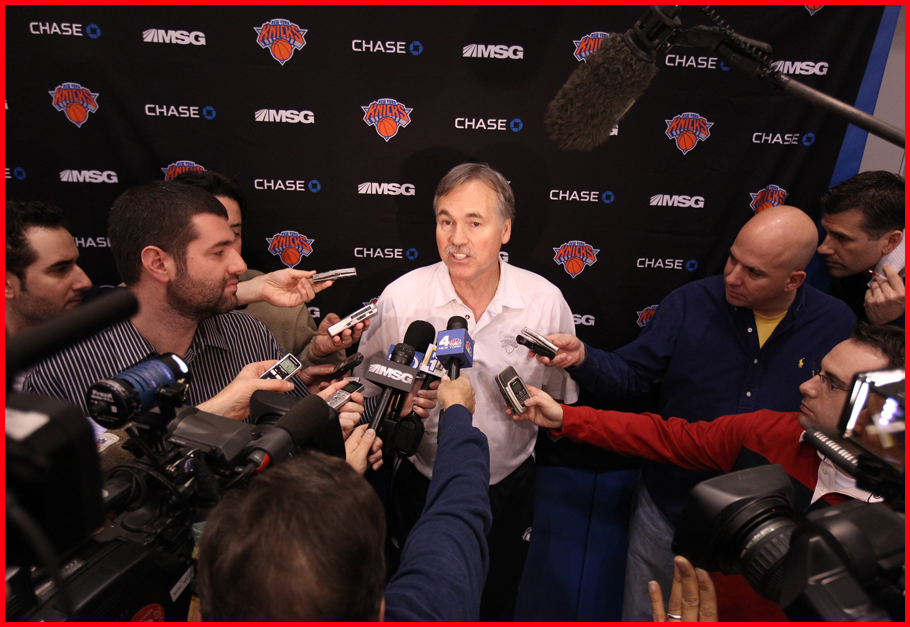 No one inside the Knicks' locker room was running from Mike D'Antoni's declaration that the franchise is in position to compete for a championship.
Not Amar'e Stoudemire, who on the day he arrived in New York said the Knicks were back. Not Mike Bibby, who played on a team that reached the NBA Finals last season and certainly not Tyson Chandler, who helped the Dallas Mavericks win their first title six months ago.
"That should be the goal," Chandler said following the Knicks' 92-83 preseason win over the Nets on Saturday at the Rock in Newark. "I understand that when they make a statement like that, people will take it any way they want to. But we're professionals. This is what we get paid for. The goal should be a championship."
On Friday, D'Antoni went on two local radio shows and said that the Knicks, who haven't won a title since 1973, were good enough to compete for one. The Knicks, however, will be taking a huge jump considering the organization hasn't won a playoff game since 2001.
"I'm not trying to say 'oh wow, look at us,'" D'Antoni said on Saturday. "I think we have a lot of talent that will have some question marks going into the season. Almost every team has those question marks. Miami had it last year.
"I think our talent level is up with anybody. That's why we should compete. Again, you have to get in the trenches and solve the problem of guys playing with each other and is our depth OK and all that stuff. Those are questions that are legitimate and we're going to work to overcome that. But I can't see us going out against anybody and saying we don't have a chance tonight. That just doesn't exist."
Read full article: www.nydailynews.com- NY Nicks embrace Mike D'Antoni's title talk