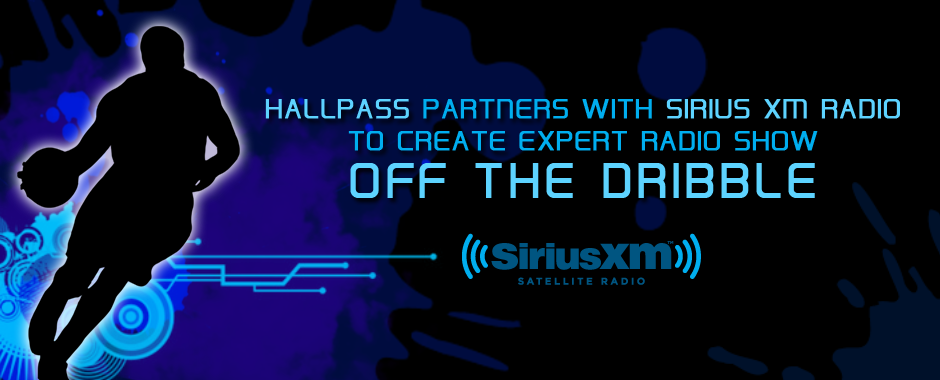 Built upon inside perspectives from NBA coaches and players around the league, Off The Dribble covers trending topics and talks to the biggest names in the game. The show is hosted by Justin Termine, with NBA analysts Sam Mitchell, Mateen Cleaves and Mike Dunleavy. Listen weekdays 12-2pm EST on Sirius 92, XM 208 and online on SportsZone.
Interested in show bookings contact producer Jaime Oppenheim at jaime.oppenheim@siriusxm.com
For information on sponsorship and advertising opportunities contact Albert Hall at ahall@hallpassnetwork.com
Listen to an audio clip from a selected show and topic by clicking on the audio player below.
TOM THIBODEAU ON DERRICK ROSES' REHAB FROM HIS TORN ACL
June 20, 2013

RICK CARLISLE ON THE CHALLENGES OF STOPPING SPURS OUTSIDE SHOOTING
June 19, 2013

STEVE SMITH EXPLAINS HOW THE PACERS OUTMATCHED THE KNICKS IN THE PLAYOFFS
May 20, 2013

STEVE JAVIE SAYS THAT REFEREES ARE NOT SWAYED BY COACHES POST GAME COMPLAINTS
May 15, 2013

JEFF VAN GUNDY GIVES OPINION ON OFFICIATING IN HEAT VS BULLS SERIES
May 13, 2013

MIKE DUNLEAVY SR. ADDRESSES BROOKLYN NETS COACHING RUMORS
May 7, 2013

FORMER NETS P.J. CARLESIMO COACH TALKS ABOUT COACHING WITH "INTERIM TAG"
May 6, 2013

PENNY HARDAWAY HAS NO PROBLEM WITH DERRICK ROSE SITTING OUT WITH HIS INJURY
May 6, 2013

COACH DUNLEAVY ON KEVIN DURANT'S NEW ROLE WITH WESTBROOK OUT
April 30, 2013

BULLS ANALYST STACEY KING ON NATE ROBINSON'S IMPACT DURING THE PLAYOFFS
April 29, 2013

MIKE BROWN REVEALS WHAT BROUGHT HIM BACK TO COACH IN CLEVELAND
April 25, 2013

DWANE CASEY BREAKS DOWN THE KEYS TO DEFEATING THE BROOKLYN NETS
April 25, 2013

DRAYMOND GREEN ON THE IMPACT OF DAVID LEE'S INJURY
April 24, 2013

SPORTS ILLUSTRATED'S LEE JENKINS OF KEVIN DURANT'S COVER ARTICLE
April 24, 2013

BRIAN SCALABRINE ON THE POTENTIAL RETURN OF DERRICK ROSE
April 23, 2013

SENATOR BILL BRADLEY RECALLS WILLIS REEED'S "INJURED" GAME
April 17, 2013

SENATOR BILL BRADLEY ON REUNITING WITH 1973 KNICKS TEAM
April 17, 2013

SENATOR BILL BRADLEY RECALLS WILLIS REEED'S "INJURED" GAME
April 17, 2013

DEREK ANDERSON TALKS ABOUT HIS FORMER UNIVERSITY OF KENTUCKY COACH RICK PITINO
April 9, 2013

NATE McMIILLAN ON RECENT HALL OF FAME INDUCTEE GARY PATYON
April 8, 2013

ESPN ANALYST DAVID THORPE ON KEVIN DURANT'S "SELFISHNESS"
April 4, 2013

MITCH KUPCHAK TALKS LAKERS ENERGY LEVEL
March 25, 2013

FLORIDA GULF COAST COACH ENFIELD REVEALS HOW HE LANDED FIRST COACHING JOB
March 25, 2013
GEORGE KARL DESCRIBES THE NUGGETS TEAM PHILOSOPHY
March 19, 2013

GEORGE KARL ON THEIR EXCITING COMEBACK WIN VERSUS THE 76ERS
March 19, 2013

NBA COLUMNIST BRIAN WINDHORST BREAKS DOWN LEBRON JAMES THIS SEASON
March 19, 2013

ALVIN GENTRY GIVES OPINION ON NUGGETS CHANCES ON EXTENDED PLAYOFF RUN
March 19, 2013

JEFF VAN GUNDY COMMENTS ON THE HEAT'S CURRENT WIN STREAK
March 18, 2013

ROCKETS ASSISTANT COACH KELVIN SAMPSON REVEALS THOUGHTS ON HARDEN'S IMPACT
March 12, 2013

OFF THE DRIBBLE DISCUSSES RUSSEL WESTBROOK'S SHOT SELECTION
March 12, 2013

NIC VUCEVIC REVEALS HIS EXPERIENCE PLAYING AGAINST LEBRON JAMES
March 5, 2013

RIC BUCHER ON THE WARRIORS GETTING ON TRACK AND THE LAKERS PLAYOFF CHANCES
March 5, 2013

HENRY ABBOTT EXPLAINS THE PRACTICAL TAKEAWAY FROM THE SLOAN SPORTS CONFERENCE
March 5, 2013

BOARD OF GOVERNORS MEMBER TOM PENN DISCUSSES ST. JUDE RESEARCH HOSPITAL'S INITIATIVES
February 28, 2013

GRIZZLIES HEAD COACH LIONEL HOLLINS DISCUSSES HIS INVOLMENT WITH HOOPS FOR ST. JUDE
February 28, 2013

HEAD COACH LIONEL HOLLINS ON THE GRIZZLES POST RUDY GAY TRADE
February 28, 2013

JERRY COLANGELO ON THE FUTURE OF TEAM USA
February 28, 2013

STEVE KERR AND SAM MITCHELL DISCUSS THE NBA's AGE LIMIT POLICY
February 26, 2013

SAM MITCHELL AND JUSTIN TERMINE TALK ANDREW BYNUM'S REHAB FROM KNEE INJURY
February 22, 2013

CBSSPORTS.COM'S KEN BERGER ON HOW THE NEW CBA AFFFECTED TRADE DEADLINE
February 22, 2013

COACH MIKE DUNLEAVY REVEALS HIS EXPERIENCES WITH DR. BUSS
February 18, 2013

DOMINIQUE WILKINS ADMITS HIS FEELINGS ABOUT THE DUNK CONTEST
February 17, 2013

HAKEEM OLAJUWON ON THE EVOLUTION OF THE CENTER POSITION IN THE NBA
February 17, 2013

GEORGE GERVIN DISCUSSES HIS SIGNATURE FINGER ROLL AND LEBRON JAMES
February 17, 2013

GARY PAYTON REVEALS FEELINGS ON HALL OF FAME NOMINATION
February 16, 2013

CARMELO ANTHONY DISCUSSES IMPORTANCE OF A HEALTHY AMARE STOUDEMIRE
February 16, 2013

KOBE BRYANT ON THE LAKERS AND MICHAEL JORDAN COMMENTS
February 16, 2013

TONY PARKER SPEAKS OF HIS NBA SUCCESS AND RELATIONSHIP WITH COACH POPAVICH
February 16, 2013

CELTICS KEVIN GARNETT ON THOUGHTS OF BEING TRADED AND HIS 18 YEAR CAREER
February 15, 2013

CHRIS BOSH REVEALS HIS CONFIDENCE IN MIAMI HEAT REPEAT
February 15, 2013

PACERS PAUL GEORGE TALKS DETHRONING THE MIAMI HEAT
February 15, 2013

ZACH RANDOLPH ON GRIZZLES ADAPTING TO LOSING RUDY GAY
February 15, 2013

ERIK SPOELSTRA DISCUSSES COACHING LEBRON JAMES & HIS NEW PERSPECTIVE
February 15, 2013

ISAIAH THOMAS SAYS DEMARCUS COUSINS IS MOST TALENTED BIG MAN IN THE LEAGUE
February 14, 2013

ROCKETS CHANDLER PARSONS REVEALS BIGGEST DIFFERENCE FROM COLLEGE TO PRO GAME
February 14, 2013

CAVALIERS ROOKIE DION WAITERS DISCUSSES ADVICE COACH SCOTT GIVES HIS YOUNG TEAM
February 14, 2013

KEMBA WALKERS ON THE MENTAL TRANSITION FROM A COLLEGE CHAMPIONSHIP TO THE BOBCATS
February 14, 2013

TERRENCE ROSS DISCUSSES WHAT HE HAS LEARNED PLAYING WITH VETERAN RUDY GAY
February 14, 2013

ALVIN GENTRY REVEALS THOUGHTS ON THE ONE-AND-DOWN IN COLLEGE BASKETBALL
February 14, 2013

HORNETS FORWARD RYAN ANDERSON BREAKS DOWN THEIR YOUNG CORE AND CHEMISTRY
February 11, 2013

LARRY BROWN ON THE CURRENT STATE OF NBA COACHING AND ALLEN IVERSON'S RETURN
February 7, 2013

CHICAGO BULLS HEAD COACH TOM THIBODEAU ON THE IMPACT OF DERRICK ROSE'S RETURN
February 5, 2013

REGGIE EVANS CLARIFIES COMMENTS ABOUT THE HEAT'S CHAMPIONSHIP IN LOCKOUT SEASON
January 31, 2013

SAM MITCHELL REVEALS DISMAY FOR NBPA EXECUTIVE DIRECTOR BILLY HUNTER'S ACTIONS
January 30, 2013

ORTHOPEDIC SURGEON DR. BOSCO ON ACL INJURIES AND THEIR EXPECTED RECOVERY TIME
January 29, 2013

FORMER NBA COACH OF THE YEAR SAM MITCHELL'S PLAN FOR RONDO-LESS CELTICS
January 28, 2013

NBA ANALYST TOM PENN BREAKS DOWN TRADING FOR J.J. REDDICK AND LAKERS SALARY CAP
January 25, 2013

DAVID ALDRIDGE ON HOW THE PHOENIX SUNS HANDLED THEIR HEAD COACH SELECTION
January 25, 2013

NETS HEAD COACH P.J. CARLESIMO TALKS ABOUT CHANGES IN BROOKLYN AND BROOK LOPEZ
January 24, 2013

FORMER NBA COACH OF THE YEAR SAM MITCHELL BREAKS DOWN NBA DEFENSE
January 18, 2013

JUSTIN TERMINE AND MATEEN CLEAVES REACT TO ALVIN GENTRY FIRING
January 18, 2013

GEORGE KARL BREAKS DOWN TEAM DEFENSE AND THE IMPACT OF KENNETH FARIED'S ENERGY
January 17, 2013

FORMER VOICE OF SONICS KEVIN CALABRO ON THE POTENTIAL RETURN OF A TEAM TO SEATTLE
January 16, 2013

JAMAL CRAWFORD COMMENTS ON "SELFISH CHUCKER" LABEL, CP3 & COACH DEL NEGRO
January 17, 2013

TRAIL BLAZERS HEAD COACH TERRY STOTTS TALKS ABOUT BIG WINS AND SALARY CAP SPACE
January 8, 2013

THUNDER HEAD COACH SCOTT BROOKS ON THE PROGRESSION OF DURANT AND WESTBROOK
January 8, 2013


ROCKETS ROOKIE ROYCE WHITE TALKS ABOUT TRUST AND STAYING IN HOUSTON
January 3, 2013

MIKE DUNLEAVY TALKS ABOUT THE APPEAL OF THE BROOKLYN NETS HEAD COACH JOB
December 28, 2012


MIKE DUNLEAVY SAYS THE BROOKLYN NETS NEED TO GET DERON WILLIAMS BACK ON TRACK
December 28, 2012


HORNETS PBP VOICE JOEL MEYERS DISCUSSES ANTHONY DAVIS' SUPPORTING CAST
December 21, 2012


MATEEN CLEAVES AND NBA INSIDER RIC BUCHER TRY TO HELP JUSTIN TERMINE PICK UP AN NBA DANCER
December, 18, 2012


JUSTIN TERMINE AND COACH DUNLEAVY DISCUSS ANDREW BYNUM'S COMMENTS THAT KOBE BRYANT STUNTED HIS GAME
December 17, 2012


FORMER LAKERS COACH MIKE BROWN TALKS ABOUT BEING LET GO AFTER FIVE GAMES INTO THE SEASON
Thursday December 13, 2012


FORMER LAKERS COACH MIKE BROWN SAYS KOBE BRYANT MADE HIM A BETTER COACH
Thursday December 13, 2012


TORONTO RAPTORS G DEMAR DEROZAN TALKS ABOUT KYLE LOWRY'S IMPACT AND THE RAPTORS' DIFFICULT START
Wednesday December 12, 2012


HOUSTON ROCKETS F PATRICK PATERSON TALKS ABOUT LINSANITY AND JAMES HARDEN'S IMPACT ON THE TEAM
Wednesday December 12, 2012


PORTLAND TRAILBLAZERS GM NEIL OLSHEY RESPONDS TO CRTICS' ALLEGATIONS THAT STAR PLAYER LEMARCUS ALDRIDGE IS "SOFT"
Tuesday December 11, 2012


DALLAS MAVERICKS HEAD COACH RICK CARLISLE TALKS ABOUT THE EMERGENCE OF OJ MAYO
Monday December 10, 2012


JUSTIN TERMINE AND MATEEN CLEAVES AGREE- MIAMI MUST BRING THEIR FOCUS EVERY NIGHT
Friday December 7, 2012


WASHINGTON WIZARDS PG A.J. PRICE TALKS ABOUT THE WIZARDS BIG WIN OVER THE HEAT
Friday December 7, 2012


ORLANDO MAGIC GM ROB HENNIGAN TALKS ABOUT HIS TEAM'S REBUILDING PLAN
Friday November 16, 2012


DALLAS MAVERICKS HEAD COACH RICK CARLISLE SAYS THERE'S NO TIMETABLE FOR DIRK'S RETURN
Friday November 14, 2012


JUSTIN TERMINE AND MATEEN CLEAVES DISCUSS THE LAKERS' HIRING OF MIKE D'ANTONI
Friday November 12, 2012


CHARLOTTE BOBCATS KEMBA WALKER TALKS ABOUT HIS DEVELOPMENT DURING HIS SOPHOMORE SEASON
Friday November 12, 2012


OFF THE DRIBBLE'S JUSTIN TERMINE IS NOT WORRIED ABOUT THE LAKERS
Friday November 09, 2012